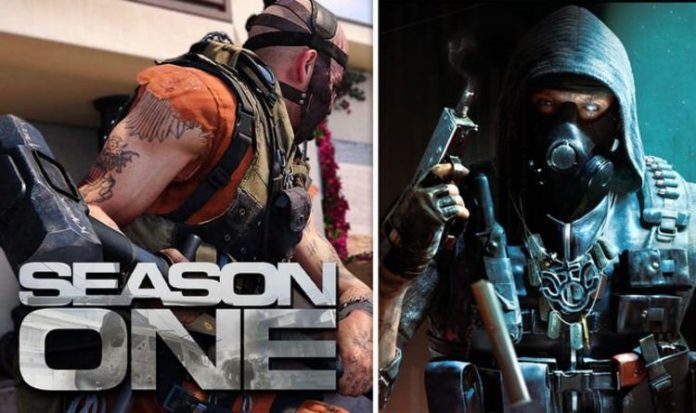 Call of Duty Black Ops and Warzone Season 1 (Image: ACTIVISION)
Call of Duty Black Ops Cold War and Warzone publisher Activision is getting ready to launch Season 1 of the Battle Pass.
The new Call of Duty season has a December 16 release date on PS5, PS4, Xbox Series X, Xbox One, and PC.
Cold War and Warzone Season 1 will launch alongside an update and brand new Battle Pass at 7am GMT UK time – which means US players can jump in at 11pm PT on December 15.
In terms of new content, the new Call of Duty update is absolutely huge. It contains everything from new maps and operators, to new weapons, items and lots of fresh rewards. There's even a brand new Warzone map called Rebirth Island.
To make things a bit more palatable, let's start with the new Call of Duty Black Ops Cold War content.
First up is the news that Black Ops Cold War is adding three new Operators to multiplayer, beginning with Vikhor 'Stitch' Kuzmin.
Available at the launch of Season 1, Stitch is described as a former KGB chemical weapons expert tasked with overseeing the production of bioweapons on Rebirth Island. 
After being captured and questioned by Russel Adler, Stitch was sent to the Gulag, where he was radicalised and recruited by Perseus.
Stitch will be joined by fellow Operators Wyatt 'Bulldozer' Jones and Zeyna Ossou over the course of the season.
Call of Duty Black Ops and Warzone Season 1 roadmap (Image: ACTIVISION)
Next up is the news that Black Ops Cold War Season 1 will add five new weapons to multiplayer.
This includes the MAC 10 SMG and Groza Assault Rifle during launch week, followed by the Streetsweeper Shotgun, Sledgehammer, and Wakizashi sword later in the season.
Available at level 15, the MAC 10 features a fully automatic fire rate with slight vertical recoil and moderate damage. The Groza Assault Rifle, meanwhile, is said to have excellent handling speeds while dealing solid damage.
Three new game modes will also be available during launch week, including Prop Hunt, Gunfight and Combined Arms: Hardpoint.
Fans may remember the 2v2 Gunfight mode from Modern Warfare, where the aim is to be the last duo standing in a quickfire round of action. Prop Hunt, on the other hand, is a 6v6 game mode where one team disguises themselves as props, while the other hunts them down.
The 12v12 Combined Arms: Hardpoint mode is arguably the most exciting of the bunch, as two teams fight for control of the Hardpoint as it rotates around the map.
Following criticism of the multiplayer offerings at launch, fans will be pleased to hear that upwards of eight new maps will be available throughout the season.
The Pines, Raid and Nuketown '84 Holiday are new 6v6 maps available from December 16.
Taking place in a neon-drenched New Jersey shopping centre, The Pines is a medium-sized, multi-level map featuring various shops for fans to fight in. Raid is a remake of the classic map from Black Ops 2, while Nuketown '84 Holiday is the same map we've come to know and love, only with a new festive theme.
The remaining maps launching on December 16 include Game Show, ICBM, KGB and U-Bahn. All are playable in the 2v2 Gunfight mode.
The festivities continue with the launch of the Sanatorium Fireteam map later in the season.
Needless to say, Season 1 also contains two new Scorestreaks, new challenges, and a couple of new Zombies modes, beginning with Jingle Hells.
New Call of Duty Season 1 map (Image: ACTIVISION)
Over on Warzone, the big new addition is the launch of the brand new Rebirth Island map, as well as a new Gulag experience.
"An illicit Soviet base raided and shut down by the CIA in 1968, during which Operator Russell Adler caught and forcefully interrogated the base commander Vikhor "Stitch" Kuzmin," reads the Rebirth Island description.
"The facility was rebuilt and recommissioned by Stitch in 1984 with one purpose: the creation and testing of the deadly Nova 6 gas.
"Part prison, part chemical bioweapons manufacturing and testing facility, the entire island has dozens of locations to explore including laboratories, barracks, decontamination areas, and a hilltop prison block where unspeakable acts have been perpetrated."
With the launch of the new season, Black Ops Cold War content – including weapons and Operators – will be added to Warzone.
In addition to a new Attack Helicopter, Warzone fans can also check out the Resurgence game mode.
To get the most out of the season, it's best to pick up a Battle Pass, which costs 1,000 COD Points. The Battle Pass features 100 tiers of rewards, including dual bonuses for Warzone and Cold War.