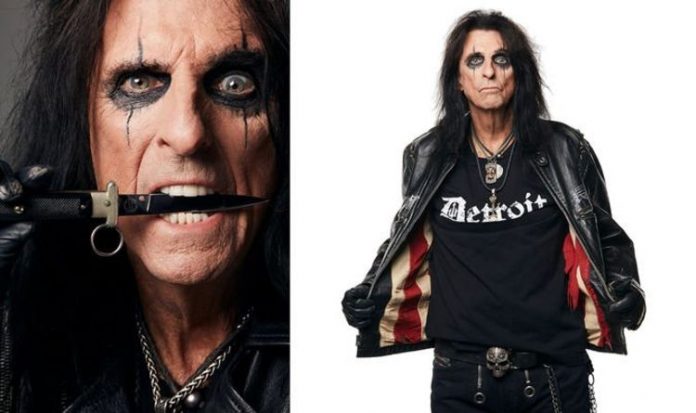 Today marks Alice Cooper's 73rd birthday and to celebrate the rock legend has released new single Social Debris from his upcoming album Detroit Stories. But not only that, the song is available to download for free for the first 24 hours. Social Debris was written by the singer and the remaining members of the original Alice Cooper band.
Cooper said of the new track: "The single Social Debris is a gift to Detroit, to my fans and to myself.
"The track was written by the original Alice Cooper band. We never thought that we would ever fit in; the Alice Cooper band didn't fit in with anybody, because we were doing things that no other band did.
"We didn't fit in with the folk scene, we didn't fit in with the metal scene, we really didn't fit in with anything that was going on at that time."
The 73-year-old admitted that he and the band felt like outsiders in the early 1970s.
READ MORE: Alice Cooper real name: What is Alice Cooper's real name?
Cooper continued: "We just always felt like we were outsiders. We felt like we were social debris, we were in our own little world.
"So Social Debris was just the original band writing a song about us, essentially.
"And it came out sounding like it belonged into 1971. That's just the original band – you can't change that, it's great."
His new album Detroit Stories is released on February 26, and he says the record is a celebration of the sound and spirit of the Golden Era of Detroit rock.
Aside from his solo work, Cooper is part of supergroup Hollywood Vampires with Joe Perry and Johnny Depp.
Formed in 2015, the band is named after the 1970s celebrity drinking club Cooper formed with the likes of John Lennon, Ringo Starr, Keith Moon and more.
The band has released two albums including their 2015 self-titled debut and 2019's Rise.
Last year, the 73-year-old was asked about the idea of a biopic of his life.
Speaking with Yahoo, Cooper said: "I hope it's not one of those ones where you have to die first.
"But, usually, it's going to happen with bands that were extremely commercially successful.
"Whereas Alice was successful and we sold a lot of records, but I did not appeal to everybody. I was definitely on the darker side, and I think that would make a great movie, myself."
Alice Cooper's new album Detroit Stories is released on February 26 and fans can download Social Debris for free (within the first 24 hours of release) here.