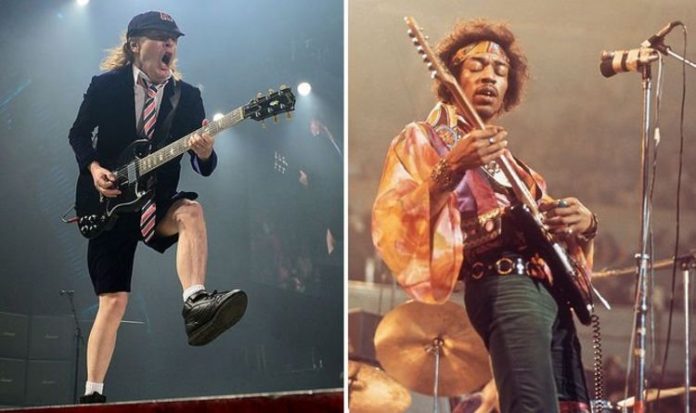 He's one of the best-loved rock guitarist of all time and now AC/DC's Angus Young has spoken out on his inspirations. The 65-year-old was a young teenager in the late 1960s when he first heard the likes of Jimi Hendrix and Led Zeppelin. Speaking in a new interview, the Scottish born Aussie said of AC/DC's earlier records: "The thing is a lot of what goes in those albums, when we were younger, that's where a lot of it all goes back to, at that point — like when I was an early teenager; 13 or 14. Music excited me, still at that age."
Angus continued: "And I think back, in my time, what I liked music-wise, I had to wait up all night.
"I would be there all night, and then at about two o'clock in the morning, there was a man on the radio, and he would play rock music of this time.
"He was an American man. And I had a little radio, and I would sit there in my bed and wake up just for this guy. And there I was. And he would bang out the latest stuff."
It was here where the future AC/DC lead guitarist first heard some of the greats.
READ MORE: AC/DC on how new album HONOURS late Malcolm Young 'He's always here'
Angus told Tiny TV, in the interview below: "I heard [Jimi] Hendrix on there, I heard Cream — people like this.
"And later on, you started to get your [Led] Zeppelins and bands like this.
"And especially when Jimi Hendrix, when I heard 'Purple Haze', boy, that was it."
The young rocker was so taken by Hendrix in particular that he just had to find out more about him.
The new record reunites AC/DC's classic line-up after all but Angus were left standing at the end of the band's Rock or Bust World Tour in 2016.
Singer Brian Johnson had to step down and be replaced by Guns N' Roses' Axl Rose due to hearing problems, while drummer Phil Rudd was unable to tour because of legal issues.
While Malcolm Young had stepped back from music after a dementia diagnosis and bassist Cliff Williams retired at the close of the tour.
Then, a year later, Malcolm sadly died and AC/DC got back together to record an album in his honour, with his nephew Stevie Young playing rhythm guitar. Below is the full trackless for AC/DC's Power Up.
1. Realize
2. Rejection
3. Shot in the Dark
4. Through the Mists of Time
5. Kick You When You're Down
6. Witch's Spell
7. Demon Fire
8. Wild Reputation
9. No Man's Land
10. System Down
11. Money Shot
12. Code Red
AC/DC's new album Power Up is out now.