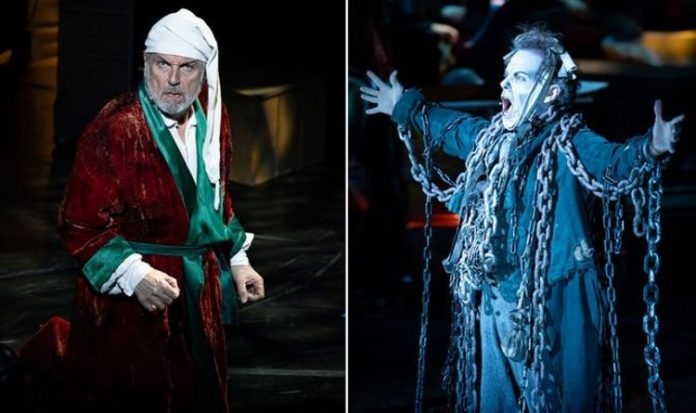 Entertainment venues across the country have really struggled through two full lockdown closures this year. One of them is the West End's Dominion Theatre, best known for staging Queen musical We Will Rock You for 12 years and more recently The Prince of Egypt. But with the pandemic hitting, the biblical musical has been put on hold until 2021 as a short but sweet run of A Christmas Carol was quickly rustled up for the festive season.
The musical stage concert was composed by multiple Oscar-winner Alan Menken, best known for those timeless Disney classic tunes of the studio's 1990s renaissance.
His particularly jolly and Americanised version of A Christmas Carol first ran for 10 years at Madison Square Garden in New York City with star Scrooges ranging from the likes of Frank Langella and Tim Curry to The Who's Roger Daltrey.
And now it's comedian Brian Conley's turn as Charles Dickens' infamous Victorian miser.
The 59-year-old more commonly features in pantomimes this time of year and certainly, this adaptation has a similar lighthearted feel to such family affairs.
READ MORE: A Christmas Carol movies ranked: Top 8 film adaptations of Scrooge
Of course, Ebenezer Scrooge is often played particularly darkly on stage and screen, with last year's BBC miniseries starring Guy Pierce perhaps going a step too far away from the original material.
But it's the versions typically originating from across the pond that tend to be brighter and more twinkly outings, especially the musical adaptations like The Muppets Christmas Carol.
Combine that vibe with Conley's panto charm and that's the type of Scrooge we're looking at; one he feels more suited to playing once the moneylender has been redeemed at the show's conclusion.
If anything, the lead's enthusiasm and positivity shines a little too early in his conversion from Grinch to generous giver, but overall Conley brings a tremendous energy to the role.
In terms of staging, the props were minimalist with few Victorian chests of draws, tables and chairs around the place, while there were clip art-esque CGI projections of candy canes and Christmas presents flying by above.
Of course, in another year, this could have all been slightly more decorative, so we must be somewhat charitable that a show was able to be put on at all. Nevertheless, there could have been more variation in the lighting than the all too common big white splashes.
At the end of the day, A Christmas Carol was a light, cheaper way to put something on at the Dominion Theatre at the end of a difficult year for the industry.
The cast and crew made the most of it, leaving the audience satisfied that they had a warm, fun romp by the time that the fake snow was descending in what may have sadly been their penultimate performance.
Opening night with critics in attendance took place on Monday, December 14 just over a week after previews began.
That very afternoon the government announced Tier 3 restrictions for London with A Christmas Carol set to close a day later, which it now has.
At the end of the press night, Conley addressed the audience with a bit of impromptu stand-up before a tenacious rallying cry that they would be back before the end of the run. For this show's few faults here's hoping that's the case as London's West End needs the Christmas spirit now more than ever.
A Christmas Carol is currently closed at the Dominion Theatre in London but restrictions may be lifted before the show's run ends on January 2.