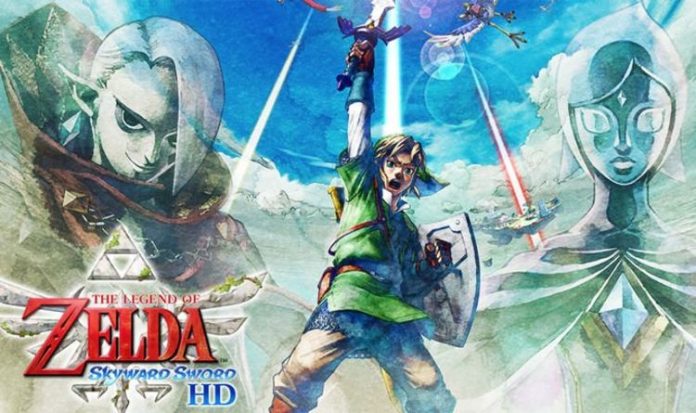 The Legend of Zelda Skyward Sword HD has been officially announced for Nintendo Switch.
The penultimate announcement during an action-packed Direct conference, The Legend of Zelda Skyward Sword HD was given a July 16 release date.
A remastered version of the popular Wii game, Skyward Sword HD will even launch alongside a brand new set of Zelda-themed Joy-Cons.
Speaking of Joy-Cons, Switch fans can use the detachable controllers to replicate the motion controls used in the Wii original.
Players can swing Link's sword and block projectiles by performing various motion gestures.
And don't worry if you have a Nintendo Switch Lite, because Skyward Sword HD will also feature regular controls.
Needless to say, the latest Legend of Zelda re-release will feature enhanced visuals to make it look better on modern TVs.
Sadly, however, the announcement of Skyward Sword was preceded by a brief statement about Breath of the Wild 2.
According to Legend of Zelda producer Eiji Aonuma, Nintendo isn't ready to make any new announcements about the upcoming sequel.
Eiji Aonuma did, however, confirm that Breath of the Wild 2 news will be revealed later this year.
As for Skyward Sword, the game is actually a prequel for all other Legend of Zelda titles.
"One of the most storied franchises in history soars to new heights," reads the official description.
"The Legend of Zelda: Skyward Sword shakes up the tried-and-true adventure game formula and marks a turning point for the franchise. 
"Explore a massive, multilayered world that seamlessly blends soaring exploration in a sea of clouds with intense ground-based adventuring that blurs the line between the main world and traditional Zelda dungeons.
"Link soars through the skies on the back of a noble bird and dives beneath the clouds to the continent below in an epic quest that lays the foundation for the events in the critically acclaimed The Legend of Zelda: Ocarina of Time."