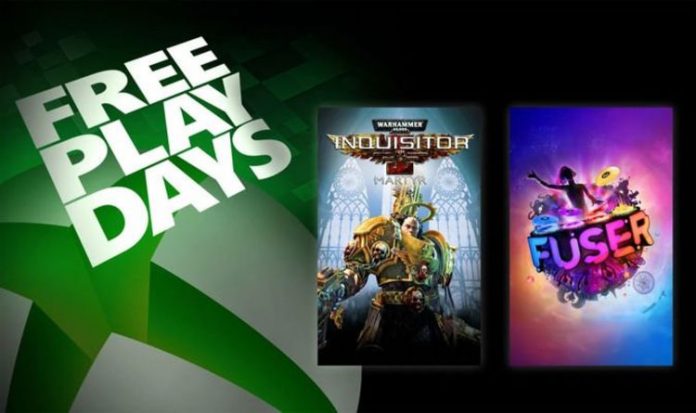 Xbox One gamers tired of their current back-catalogue can download two new games today if they have an active Xbox Live Gold subscription.
Fuser and Warhammer 40,000: Inquisitor – Martyr have been added to Microsoft's Xbox Free Play Days event, which is scheduled to run until February 22.
To find the games and download them for free, gamers simply need to head over to the official Xbox.com, where you can then browse the Microsoft Store.
It should be noted that Xbox Live Gold members need to be signed in to see the option to install each game.
To download on console, gamers just need to click on the Subscriptions tab in the Xbox Store and enter the Gold member area to locate the Free Play Days collection on your Xbox One.
And it should be pointed that due to backwards compatibility, Fuser and Warhammer 40,000: Inquisitor – Martyr can also be played on Xbox Series X.
And for gamers who are ready to play some top Xbox One games on their next-gen consoles, Microsoft has provided an extra incentive.
Rolling out this year, the tech giant is aiming to increase frame rate performance on older titles, with the first batch now available to check out.
A message from Microsoft explains, telling gamers: "We're excited to announce the first assortment of backward compatible titles that will support FPS Boost are Far Cry 4, New Super Lucky's Tale, Sniper Elite 4, UFC 4, and Watch Dogs 2.
"We chose this initial collection of titles not only because they are popular among fans, but to highlight several different ways that FPS Boost can improve your experience. For example, New Super Lucky's Tale can now run up to 120 frames per second (fps) and UFC 4 delivers improved framerate performance specifically on Xbox Series S and can now run at 60fps.
"This is just the beginning. We will announce and release more titles featuring FPS Boost soon, as well roll out new menu icons and system settings in an upcoming system update."
Meanwhile, both of today's Xbox Free Play Days games will be available for a limited time alongside a discount for those who want to buy the full experience.
Fuser currently has 35% off the standard edition, while Warhammer 40,000: Inquisitor – Martyr is available with 85% off.
Description for both games can be found below for anyone who has not played them yet:
Fuser
It's time to grab your friends and step on to the Fuser festival stage to start your journey as the ultimate DJ headliner! Combine elements of the world's most popular songs to create amazing mixes, then share your freestyling creations and headlining performances with the world! Customize your DJ's unique look, from hair and tattoos to a festival stage show with pyrotechnics, lighting effects, video screens, and more. When you're ready, compete in DJ Battles or collab with friends online! Play Fuser for free this weekend and check out the Deals with Gold sale in the Microsoft Store.
Warhammer 40,000: Inquisitor – Martyr
Play as the Inquisitor, the Imperium's most powerful agent, in Warhammer 40,000: Inquisitor – Martyr. Across the far-flung corners of the Warhammer universe, impose the Emperor's will as you conduct your investigation across multiple planets. Go solo or team up with four friends in visceral combat and purge the chaos lurking behind the walls of the fortress-monastery, Martyr.