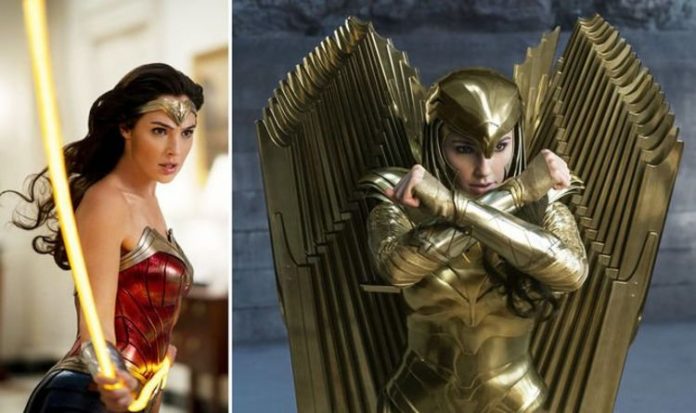 Wonder Woman 1984 is released in UK cinemas today, a full nine days before US movie theatres and HBO Max. While British critics were able to review the film prior, the end credits scene was deemed so secretive it was cut, until now. The Wonder Woman 1984 end credits scene has been revealed and boy does it have one incredible cameo hinting at an exciting future for Wonder Woman 3. WARNING: HUGE SPOILERS AHEAD.
The Wonder Woman 1984 end credits scene cameos none other than original Diana Prince herself, Lynda Carter.
The 69-year-old and former Miss World USA famously played Wonder Woman in from 1975 to 1979 in the ABC/CBS TV show.
In the end credits scene, she reveals her name is Asteria, an Amazon warrior of Themyscira who was the original wearer of the golden flight armour worn by Wonder Woman in the movie.
She tells Diana and the audience: "I've been doing this all this time."
READ MORE: Wonder Woman 1984 opening scene: WATCH action-packed prologue
Carter continued: "She was in England, and I was doing my concerts."
Sadly her singing engagements meant the original Wonder Woman was unavailable to cameo.
The 69-year-old added: "At that time we couldn't get our timing together. So, this next time, if she writes me a decent part, I might do it."
And now we know that that's exactly what happened with hopefully a much bigger role for her in Wonder Woman 3.
Express.co.uk reviewed Wonder Woman 1984 earlier this week after seeing it at the BFI IMAX before London entered Tier 3 restrictions.
And we can safely say that the DC movie was a welcome return to the cinema, full of reminders of why the big screen is always going to be that unique experience, especially for blockbusters.
Certainly, the biggest highlight jas to be Patty Jenkins' expertly shot action sequences from the word go.
Wonder Woman 1984 is released in UK cinemas on December 16, 2020.