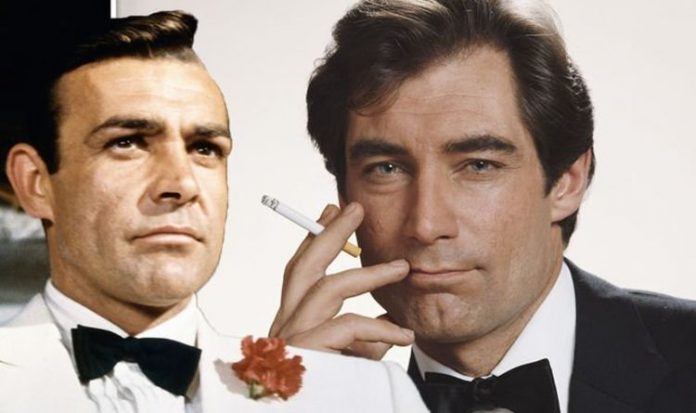 James Bond is a misogynistic, globetrotting spy whose focus is to get the girls and beat the bad guys in the most sophisticated suits. In recent years, his character has had far more depth and emotional maturity but has remained a 'masculine' man. One expert has revealed how his actors, though different, have kept him 'masculine' for all these years.
In an exclusive conversation with Express.co.uk, Dr Ian Kinane, a senior lecturer at the University of Roehampton and editor of the International Journal of James Bond Studies, spoke about the role of Bond and who could take over.
While a number of names were mentioned, with Scottish actor Jamie Bell in the running in Dr Kinane's mind, one thing was for certain: James Bond and 007 are not the same, and instead, the direction of Bond's 'masculinity' would need to be decided.
Lashana Lynch plays Nomi, an agent who has taken on the 007 moniker after Bond's retirement in the upcoming No Time to Die.
While little is known about her, some fans have speculated it could be her to follow in Daniel Craig's footsteps, and revamp the franchise with Nomi at the centre.
READ MORE:  Michael Jackson Thriller behind the lyrics: How was Thriller written?
This would be if James Bond, the name used by the leading agent in this franchise, is actually a codename, meaning anyone of any gender could take it on.
However, Dr Kinane has said, while the later films may have moved in a more modern direction, the franchise will not make this bold move.
He said: "Lashana Lynch is now the new 007. So she's not Bond, but she's 007…
"But I think it's crucial to see that James Bond hasn't changed. It's a separation of the icon from the man.
"I think it's really interesting that the filmmakers can sort of have their cake and eat it, just with respect to this development.
"Ostensibly, James Bond doesn't have to change."
For Dr Kinane, the two things do not have to be similar, as James Bond has, and always will be, a reflection of masculinity based on two polarities: "camp, debonair style, on one hand, and serious, more hard-hitting realism on the other."
Dr Kinane continued: "I think an awful lot of the development of the series, and particularly around the actors, as we move from Connery to Craig, largely falls on the almost incorruptible notion of what a man should be: of what masculinity is.
DON'T MISS
"We started in the 1960s with Connery, and you have a very smooth, debonair style, very sexy, very fierce and there's also a sense of danger and style to this man.
"What happens when Connery becomes a little bit older, there's a little bit more of a creeping element of self poverty in the films, where the idea of this man doing what his younger counterpart could have done or would have done is in some ways played for laughs.
"So what did they do? They follow Connery with Lazenby, straight-laced, and it's regarded as one of the best firms in the series.
"But, of course, that kind of ideal didn't really sit well with audiences at the time.
"Lazenby had no acting experience, he was particularly charismatic. But more than that, I think there was just too much of a hint of kind of openness about him and his Australianness.
"So they followed up him with a very particular type of British gentleman, the very first British actor to play Bond, of course, was Scottish.
"And with Moore you have almost built-in from the beginning, an idea of debonair, well-dressed style, no great physical feats or physical action on his part, because he was a bit more like the kind of the dandy at the top.
"This is an idea of masculinity, but I think it's very contingent on style and on gadgetry.
"But again, once Moore descends into self-parody, they replace him again with Doulton, a very serious, Shakespearean actor…
"So you have this kind of reverberation between camp style, on one hand, and serious, more hard-hitting realism on the other."
For him, Daniel Craig is the hard-hitting Bond, meaning it may be the next Bond is a Roger Moore-inflected actor, rather than the 'realism' of recent movies.
Daniel Craig's final outing as James Bond, No Time to Die, will be out on April 2, 2021