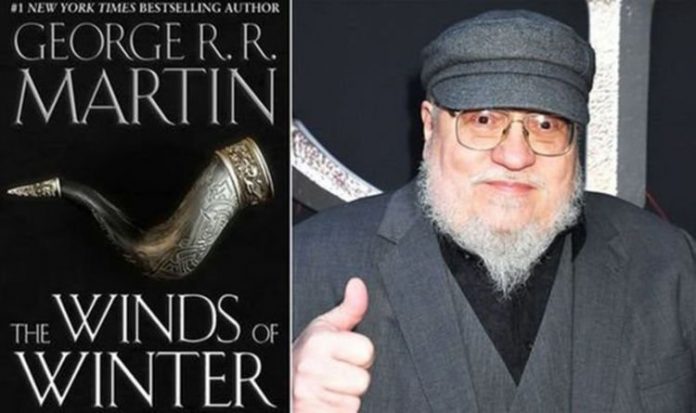 After 10 years, George RR Martin is finally getting close to finishing the penultimate book in A Song of Ice and Fire. Game of Thrones novel The Winds of Winter is set to be a very big book according to the author, who has shared a new update on his progress. The 72-year-old wrote on his blog: "What was good about 2020? Besides the election? Well… for me… there was work."
Martin continued: "I wrote hundreds and hundreds of pages of THE WINDS OF WINTER in 2020. The best year I've had on WOW since I began it.
"Why? I don't know. Maybe the isolation. Or maybe I just got on a roll. Sometimes I do get on a roll."
But despite the progress, the Game of Thrones creator admitted he still has a long way to go, but is hopeful he'll finish the highly-anticipated novel this year.
He wrote: "I need to keep rolling, though. I still have hundreds of more pages to write to bring the novel to a satisfactory conclusion. That's what 2021 is for, I hope."
READ MORE: Winds of Winter 'George RR Martin likely facing decision to SPLIT it'
But in terms of a deadline, Martin will not set one as he when he's missed them in the past there's been a backlash.
The 72-year-old wrote: "I will make no predictions on when I will finish. Every time I do, assholes on the internet take that as a 'promise', and then wait eagerly to crucify me when I miss the deadline. All I will say is that I am hopeful.
"I have a zillion other things to do as well, though. My plate is full to overflowing.  
"Every time I wrap up one thing, three more things land on me."
The last A Song of Ice and Fire book to be published was A Dance with Dragons in 2011, the same year that Game of Thrones debuted on HBO.
Over the last decade, Martin has written episodes of the show that he's been heavily involved in, while prequel series House of the Dragon is on the way.
Meanwhile, the author penned volume one of the history of House Targaryen, Fire and Blood, which was released in 2018.
In terms of his writing priorities now, Martin is focused on completing The Winds of Winter above everything else.
After The Winds of Winter, Martin will need to conclude A Song of Ice and Fire with A Dream of Spring.
But before setting up on that epic, he intends to take a palate cleanser with a fourth Dunk and Egg short.
And when A Dream of Spring is finally published, the 72-year-old will again pen a fifth Dunk and Egg story.
Once all that's done he'll get around to volume 2 of Fire and Blood, completing his 300-year history of House Targaryen, which concludes where Game of Thrones begins.