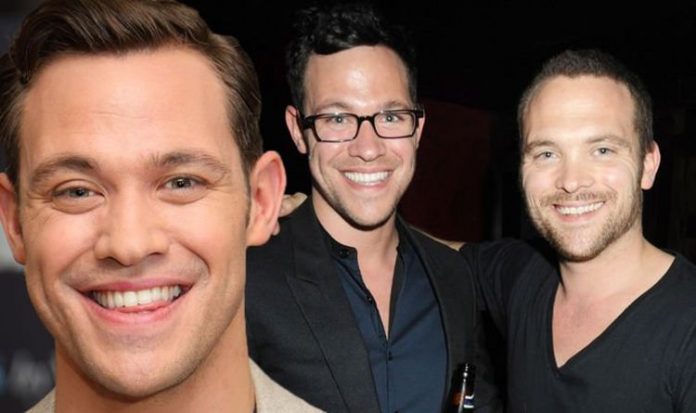 Will Young sings a great deal about heartbreak and his experiences. However, one of the things he has had to deal with was incredibly painful, when his twin brother died. But what happened to Will Young's twin Rupert, as the singer wishes him a happy birthday?
What happened to Will Young's brother?
Will Young and his brother, Rupert, were born on January 20, 1979, in Wokingham, Berkshire.
Will was 10 minutes older than his brother, making him the middle child in the Young family after his older sister Emma.
However, Rupert's fate was devastating to Will, after he died on August 4, 2020.
READ MORE:  Jennifer Lopez nationality: Where's JLo from? Inside her Latino roots
Rupert took his own life last year after years battling with mental health struggles, but Will has paid tribute to him on their shared birthday.
Accompanying a video of pictures from their childhood, Will took to social media to say: "It is mine and my twin's birthday today. I miss him yet feel he is always with me."
On the day of Rupert's death, a family spokesperson said: "Will's relationship with Rupert had been tough over the years at times, and they had both spoken about the mental health problems which had made it challenging…
"There were hopes he had turned a corner and they are a very loving family – and utterly devastated by his passing."
Will spoke at his brother's inquest in December, detailing how he had made a number of suicide attempts before his death, which took place after Rupert had discharged himself from St Thomas's Hospital.
Will said: "Rupert struggled with depression and anxiety, I would say for 20 years.
"Over that time, more times than I can think of, there have been suicide attempts or suicide ideation… it would be a cry for help.
"There were few times actually that he had gone full, full, full through with it."
DON'T MISS
One report at Rupert's inquest showed he had alcohol in his system, and the inquest also heard Rupert had dealt with addiction throughout his life, drinking up to 30 cans of beer a day in the weeks before his death.
Will added: "I was a carer for him, but it became too much. He could not look after himself and I did not believe he could look after his own life.
"I feel it is difficult for me. I am someone who is pretty in control over my emotional well-being.
"I am a functional adult. I have done a lot of work on myself."
The inquest also heard, in the lead up to his brother's death, Will had reported his brother as a trespasser when Rupert turned up at the singer's home, which he did for his "emotional well-being."
Rupert had, the inquest heard, lived with Will at various points over a three years period.
Since Rupert's death, Will has released a book called To Be a Gay Man, where he writes about some of his experiences of being a gay man in showbusiness.
For confidential support call the Samaritans in the UK on 116 123 or visit a local Samaritans branch.