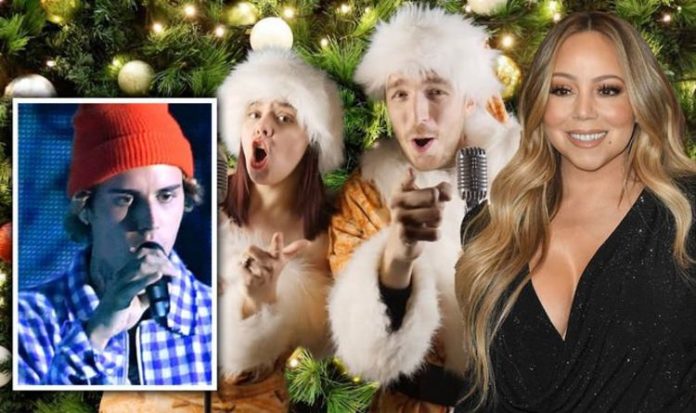 Whether you're rocking around the Christmas tree, or feeling lonely this Christmas, the Christmas Number 1 is a British institution. Some of the world's most iconic music stars have claimed the top prize over the years, leaving us with festive bangers such as 2004's Do They Know It's Christmas? from BandAid and East 17's smash hit Stay Another Day. And of course, the classic 2000 bop from Bob the Builder, Can We Fix It?
However, it's the 1987 track Fairytale of New York from The Pogues which is supposedly the nation's favourite Christmas tune.
Research carried out by YouGov shows the controversial song, which sparked outrage this year after the BBC played a censored version, was even more popular than Mariah Carey's All I Want For Christmas.
The poll, which surveyed more than 1,200 UK adults between December 3 and 4 and asked what their favourite Christmas song, saw the Pogues in the top spot with 17 percent.
Mariah secured just eight percent while Last Christmas scored just seven percent of the vote.
This year, there's dozens of artists vying for the coveted position once again – but who will it be, and when will we find out?
READ MORE: Christmas quiz questions and answers – 40 questions for Christmas quiz
But while the silly song may catch your attention for its hilarious puns and giggle-inducing music video, there's a rather heartwarming message to the single.
The track is raising money for UK food bank charity The Trussell Trust, and Mark said this is "our most important year yet".
He added: "The reason we aspire to get number one is, it gives us the opportunity to mention the charity and for the charity to get talked about.
"That's why we always do our best to get to number one. The Beatles and the Spice Girls… people talk about us having three as well.
"You know, it's an honour to be mentioned with such musical greats. But our passion is to raise the name of this charity."
LadBaby – 1/5
NHS Choir & Justin Bieber – 5/1
Mariah Carey – 8/1
ICU Liberty Choir – 16/1
The Pogues – 18/1
Full list of the last 50 years of Christmas No 1s
2020: ?
2019: LadBaby – I love Sausage Rolls
2018: LadBaby – We Built This City
2017: Ed Sheehan – Perfect
2016: clean Bandit – Rockabye
2015: Lewisham and Greenwich NHS Choir – A Bridge over You
2014: Ben Haenow – Something I Need
2013: Sam Bailey – Skyscraper
2012: The Justice Collective – He Ain't Heavy, He's My Brother
2011: The Military Wives Choir – Wherever You Are
2010: Matt Cardle – When We Collide
2009: Rage Against The Machine – Killing In The Name
2008: Alexandra Burke – Hallelujah
2007: Leon Jackson – When You Believe
2006: Leona Lewis – A Moment Like This
2005: Shayne Ward – That's My Goal
2004: Band Aid 20 – Do They Know It's Christmas?
2003: Michael Andrews and Gary Jules – Mad World
2002: Girls Aloud – Sound of the Underground
2001: Robbie Williams & Nicole Kidman – Somethin' Stupid
2000: Bob The Builder – Can We Fix It?
1999: Westlife – I Have A Dream / Seasons In The Sun
1998: Spice Girls – Goodbye
1997: Spice Girls – Too Much
1996: Spice Girls – 2 Become 1
1995: Michael Jackson – Earth Song
1994: East 17 – Stay Another Day
1993: Mr Blobby – Mr Blobby
1992: Whitney Houston – I Will Always Love You
1991: Queen – Bohemian Rhapsody / These Are The Days Of Our Lives
1990: Cliff Richard – Saviours' Day
1989: Band Aid II – Do They Know It's Christmas?
1988: Cliff Richard – Mistletoe & Wine
1987: The Pet Shop Boys – Always On My Mind
1986: Jackie Wilson – Reet Petite
1985: Shakin' Stevens – Merry Christmas Everyone
1984: Band Aid Do They Know It's Christmas?
1983: The Flying Pickets – Only You
1982: Renee & Renato – Save Your Love
1981: The Human League – Don't You Want Me
1980: St Winifred's School Choir – There's No One Quite Like Grandma
1979: Pink Floyd – Another Brick In The Wall
1978: Boney M – Mary's Boy Child-Oh My Lord
1977: Wings – Mull Of Kintyre / Girls' School
1976: Johnny Mathis – When A Child Is Born (Soleado)
1975: Queen – Bohemian Rhapsody
1974: Mud – Lonely This Christmas
1973: Slade – Merry Xmas Everybody
1972: Little Jimmy Osmond – Long Haired Lover From Liverpool
1971: Benny Hill – Ernie (The Fastest Milkman In The West)
1970: Dave Edmunds – I Hear You Knockin'