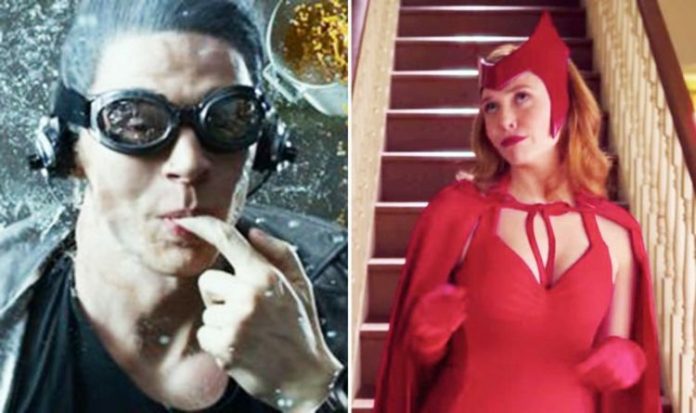 Last Friday, the first two episodes of WandaVision dropped, totally baffling fans. The bold miniseries sees Scarlet Witch and Vision (who died in Avengers Infinity War) living an idealised life in a 1950s sitcom world; one that is moving fast through the decades. It seems that Wanda has constructed a reality to deal with her grief, but there's big speculation that this will somehow open up the Marvel multiverse.
Back in Avengers: Age of Ultron, Scarlet Witch lost her mutant brother Quicksilver, played by Aaron Taylor-Johnson, so she's no stranger to trauma.
Now comic book movies fans will know that Evan Peters portrayed a version of Quicksilver in the Fox X-Men movies too.
Interestingly, there's been rumours around that Peters will in fact appear in WandaVision in a mystery role.
Naturally, with all the multiverse antics of Marvel Phase 4, plus the fact that Disney bought the rights to Fox (which includes the X-Men), it just seems likely that his incarnation of Quicksilver will be entering the MCU.
READ MORE: WandaVision theory: Scarlet Witch opens MCU multiverse to Fox and Sony
Interestingly an alleged WandaVision set photo of Peters, with what looks like his Quicksilver hair, found its way onto Twitter.
And now another clue that seems to confirm the Fox speedster's return has arrived in the form of a deleted tweet.
Rodri Martín, who was the Spanish dub for Peters' Quicksilver in the Fox X-Men movies, basically said it was a privilege to voice Pietro again.
Fans will know that Pietro or Peter Maximoff is the real name of the Marvel speedster.
Not only are former Spider-Man leads Tobey Maguire and Andrew Garfield set to return with Kirsten Dunst's MJ and Emma Stone's Gwen Stacey, but also a whole host of villains.
While some stars are still in talks and others signed on, expect the likes of Willem Dafoe's Green Goblin, Alfred Molina's Doctor Octopus and Jamie Foxx's Electro in the upcoming multiverse movie.
It's even rumoured that Tom Hardy's Venom and Jared Leto's Morbius may feature too.
Interestingly, Benedict Cumberbatch's Doctor Strange will also star as the mentor to Tom Holland's Spider-Man.
No doubt Doctor Strange will be dealing with all the multiverse antics set to plague Untitled Spider-Man 3.
In fact, it's rumoured that WandaVision kicks off a multiverse trilogy with Holland's third Spidey outing as the second movie and Doctor Strange in the Multiverse of Madness being the finale.
The latter will co-star Elizabeth Olsen's Scarlet Witch in a film that will hopefully feature lots of alternate version of much loved Marvel characters.
Such a movie would be a great place to further feature the Fox and Sony Marvel characters.