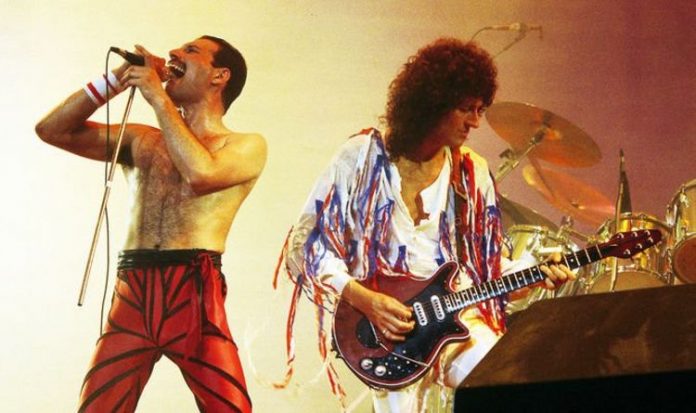 Brian May is one of classic rock's best known electric guitar players after 50 years with Queen. And now the 73-year-old has revealed his favourite guitar solo from the band's hits. Interestingly his choice was not Freddie Mercury's Bohemian Rhapsody.
Speaking with Total Guitar, May said: "Killer Queen has always been a favourite of mine. And again, that was always in my head.
"It was something a bit more complex, an adventure in putting guitar harmonies into the solo.
"It was quite a step into the unknown, that solo, and it has a melody that I put in there which doesn't appear anywhere else in the song, so in a sense, they're quite comparable, that and Bohemian Rhapsody."
When asked about Crazy Little Thing Called Love, the Queen guitarist admitted how James Burton influenced him.
READ MORE: Freddie Mercury: Brian May on recording Bohemian Rhapsody
May continued: "That one is really a pastiche of James Burton. James was my hero and I'm happy to say he's become a friend now.
"And his solo on Hello Mary Lou, the Rick Nelson record, was massively influential on me."
Asked if he was conscious of influences when writing Queen guitar solos, the 73-year-old replied: "No, I think it's all in there unconsciously. But I know it's all in there, the same as there's a lot of other stuff in there.
"All those wonderful arrangements that The Temperance Seven did, that's all in there unconsciously and I know that I draw on that."
May revealed: "It's Clapton, Key To Love, from the John Mayall's Blues Breakers album.
"It's the hottest burning high-passion piece I've ever heard in my life – still to this day.
"I just love it. It totally rips, and I'll never get over that. That's one of my greatest inspirations."
After almost a year of lockdowns, May is looking forward to touring with Queen and Adam Lambert in the summer.
Originally, Queen and Adam Lambert were set to perform around the UK and Europe last summer, but now those dates will take place in what is Queen's 50th anniversary year.
May told Express.co.uk last year: "It's funny because we've been looking at all this and Roger [Taylor] and I are going, 'Do we really want to celebrate being that old?'
The guitarist and drummer, who are the only active members of Queen today, have been looking at all sort of designs and logos to mark 50 years of the band. But afterwards, May and Taylor said to each other: "Actually I don't think we want to do that, we just want to get out and play."
May added: "We want to celebrate being alive and being live. That would be the greatest thing to celebrate. I don't really care how long it's been, to be honest. I'm just grateful that we're here."