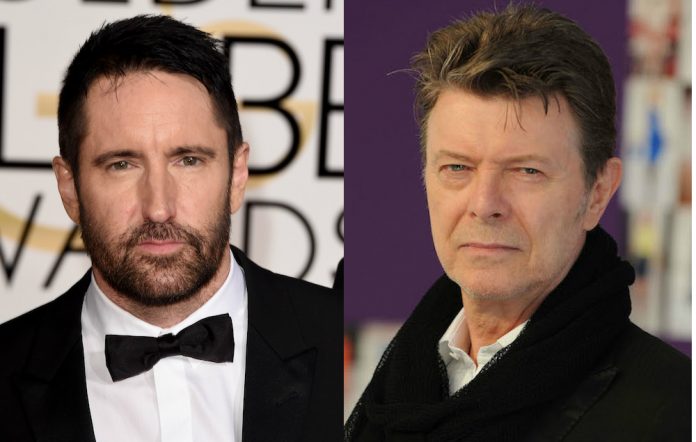 Nine Inch Nails toured with the star in 1995
Trent Reznor has explained how David Bowie helped him to see "the light at the end of the tunnel" in the mid-90s.
Nine Inch Nails, who released their new album 'Bad Witch' today (June 22), supported the late star on tour in 1995.
Speaking to the Guardian, Reznor explained how he had been struggling with his drinking and drug-taking. "I wasn't the guy who aged 12 had a beer and turned into a werewolf," he said. "It kind of crept up. I wasn't prepared for the transformative effect of fame and recognition. Now everyone's here to see me, and I still feel like I don't belong there, that I don't deserve to be there, that I don't know how to act.
"But I found myself uncomfortable in a scenario where everybody wants to be your friend," he said. "Having a drink or two was a tool. It did help, for a while, until it started to define who I was. In every scenario, I had to drink, because that was me now."
He went to say things in his life were "unrecognisable" around the time the band toured with Bowie. "[He] definitely helped," Reznor said. "Not in a lecturing kind of way, but I saw someone who had come through [addiction], and he was happy and optimistic and remained fearless. I thought: if he can do that, maybe there's light at the end of the tunnel."
Meanwhile, Reznor has also given his verdict on Kanye West's 'Ye' album. "The guy's lost his fucking mind: that's the thinkpiece," he said. "His record sucked and that's it."
Earlier this week, the Nine Inch Nails frontman spoke out against "the Taylor Swifts of the world", accusing them of caring more about their brands and success than advocacy.