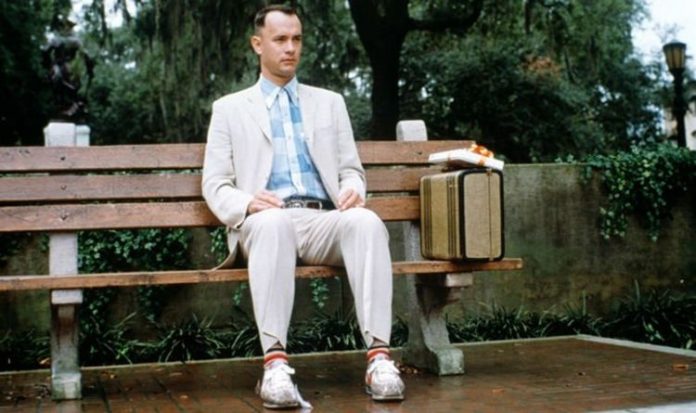 The 1994 classic Forrest Gump famously won six Oscars including Best Picture and Best Director for Robert Zemeckis and Best Actor for Tom Hanks. And now the star has shared that he had to pay for some of the scenes out of his own pocket, including a very famous one. The gamble certainly paid off with the decision earning the star around $65 million.
In an interview earlier this year with In Depth With Graham Bensinger, Hanks shared that one of the scenes he helped fund was Forrest's run across the USA.
Paramount felt it was too expensive to shoot even though Zemeckis argued it was a crucial scene.
So the director went to Hanks for the money, asking the actor to trust him on this.
The actor remembered that Zemeckis said: "Well, this run is going to cost X amount of dollars."
READ MORE: How real-life Forrest Gump Bruce Tulloh was fuelled by cornflakes
Hanks said it wasn't cheap but agreed to fund the Forrest Gump running scene out of his own pocket.
Zemeckis said: "You and I are going to split that amount, and we're going to give it back [to Paramount].
"We'll give you the money back, but you guys [Paramount] are going to have to share the profits a little bit more."
Hanks remembered: "The studio said, 'Fabulous, great. OK.' And it was good for us, too."
Hanks is playing Elvis' manager Colonel Tom Parker opposite Austin Butler's take on The King.
Back in March, the Baz Luhrmann directed movie had been rehearsing a Las Vegas residency scene before Hanks was found to have contracted coronavirus.
One of the first celebrities to get COVID-19, the star and his wife went into self-isolation and the production shut down.
Filming resumed on the Elvis movie in Queensland, Australia last September.
In a statement, director Baz said: "We're back to, as Elvis liked to say, 'taking care of business!'
"It is a real privilege in this unprecedented global moment that Tom Hanks has been able to return to Australia to join Austin Butler and all of our extraordinary cast and crew to commence production on Elvis. 
"I cannot emphasize enough how lucky we feel in the current climate that the state of Queensland, and Queenslanders in general, have been so supportive of this film."
Elvis is set for release in cinemas on November 5, 2021.