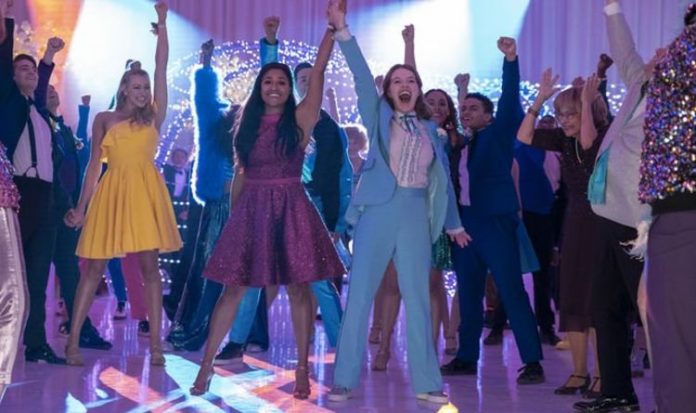 The Prom first made its way to Broadway in 2018 following a short stint in the Atlanta Alliance Theatre. The fictional story is based on a real situation that happened in Mississippi in 2010. In the show, and the film, Emma Nolan (played by Jo Ellen Pellman) is a gay high school kid who wants to go to prom with her girlfriend, Alyssa Greene (Ariana DeBose), but the Parent Teacher Association refuse to let it happen. Because the PTA cannot stop Emma alone from attending the prom, they make the drastic decision to cancel prom altogether, leaving Emma devastated, and outcast by her peers.
Meanwhile, some almost-failing Broadway stars are looking for a publicity stunt to pull themselves back into the limelight.
Dee Dee Allen (Meryl Streep) is a twice Tony Award winner, who can't seem to find her feet in any of her latest shows.
Dee Dee and her companions, Barry Glickman (James Corden), and Angie Dickinson (Nicole Kidman) see the controversy surrounding Emma and her school online, and decide to go to Indiana to help Emma with her issues.
What follows is two hours of a gloriously designed Broadway adaptation, with a new take on how the show was seen in person.
The Prom is a simple story at heart – good guys Vs. bad guys – but the heart surrounding it is what makes it special.
Dee Dee's ex-husband troubles coupled with her newfound romance with Mr. Hawkins (the wonderful Keegan-Michael Key) create a really well-rounded juxtaposition for the character.
A reunion scene with his on-screen mother is particularly tissue-clutching, so fair play to the talk-show host.
Emma actor Jo Ellen Pellman is delightful throughout the film, and stands out quite quickly.
The young star does an incredible job of playing the emotional, almost awkward Emma, but is pushed aside for the likes of Streep and Kidman – understandably.
Ryan Murphy helms The Prom – taking a break from his regularly scheduled haunts of American Horror Story, et al – and he does a fairly good job of it.
The hard block colours, constant smothering of glitter, and abstract spotlights work really well for the story, and is objectively a feast for the eyes.
While it certainly feels like an adaptation of a musical, it is at least a competent one, with great attention on defining its own aesthetic.
Newcomers to The Prom, like myself, will no doubt enjoy the new Netflix romp. It is fun, heartbreaking, fancy, and features some incredible numbers. Streep and Kidman are at the top of their game, and usher Pellman through the story with a fantastic dose of "zazz", but Corden leaves a little to be desired. Sure, he has his standout moments, however his mere casting as Barry will certainly irk a lot of people – and with good reason. Murphy does a lot for The Prom. The set design, costumes, and choreography are really well put together, and viewers will love the visual display set out before them.
The Prom is in cinemas now, and arrives on Netflix December 11, 2020.