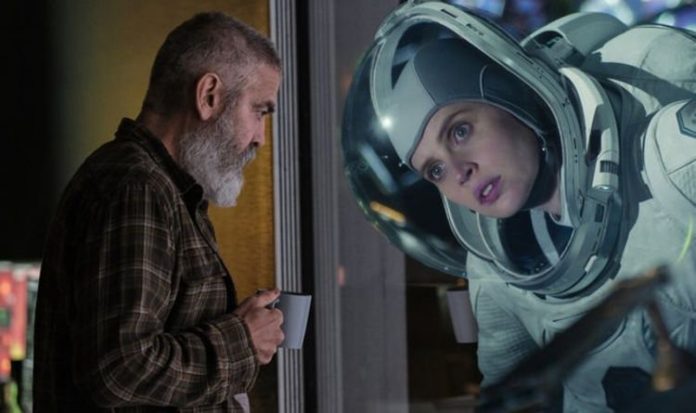 The Midnight Sky is the latest film from George Clooney, where he is both at the helm and starring in the movie. The film seems a perfect one for the current chilly climate, as it follows a scientist in the Arctic as he tries to help a group of astronauts. But when is The Midnight Sky coming out in cinemas, and will it be coming out this year?
When is The Midnight Sky out in cinemas?
The Midnight Sky is following the path of many other movies this year, with a theatrical release followed by streaming.
As for its cinematic release, the movie will come out on December 11.
After that, the film will be released on Netflix from December 23, meaning fans can enjoy it in their homes over the Christmas holidays.
READ MORE:  James Bond GoldenEye: When was Pierce Brosnan debut GoldenEye made?
With many films pulling out of cinemas of late, this film is bucking the trend and refusing to move its theatrical release.
This could be for a number of reasons, but at the moment, while Oscar rules remain the same, it could be to ensure it is in contention for awards.
The Academy of Motion Picture Arts and Sciences usually stipulates that films are only in contention for awards if they have been released theatrically during the year, being required to have had at least seven consecutive days in the cinema.
However, with Covid-19 changing everyone's lives, the Academy has now stated films "may" be considered if they were intended for theatrical release, but opted instead for streaming.
The Midnight Sky is covering its bases by having both releases in place, but it may be this was a factor in the decision to make the film available for streaming as well.
What is The Midnight Sky about?
The official synopsis reads: "This post-apocalyptic tale follows Augustine (played by George Clooney), a lonely scientist in the Arctic, as he races to stop Sully (Felicity Jones) and her fellow astronauts from returning home to a mysterious global catastrophe.
"Clooney directs the adaptation of Lily Brooks-Dalton's acclaimed novel Good Morning, Midnight, co-starring David Oyelowo, Kyle Chandler, Demián Bichir and Tiffany Boone."
DON'T MISS
George has directed a fair few films, with this becoming his seventh directed movie.
His second movie as a director, Good Night, and Good Luck, saw him nominated for his first Oscar for directing.
He won an Oscar for Best Supporting Actor the same year, 2006, with a different film, Syriana.
George won a second Oscar as a producer of the movie Argo, a film starring and directed by Ben Affleck.
In terms of his acting roles, The Midnight Sky is George's latest film since 2016, when he starred in Jodie Foster-directed thriller Money Monster, which also starred British actor Jack O'Connell.
Now a family man and also a director, his acting output has decreased somewhat, and with coronavirus delays plaguing movie sets and productions, it may be some time before we see him on the big screen again.
However, he has been starring in TV series in the intervening years, with him directing, producing and having a small role in Joseph Heller adaptation Catch-22, with it airing on Sky Atlantic and Hulu in 2019.
The Midnight Sky is out in cinemas on December 11 before its streaming release on December 23