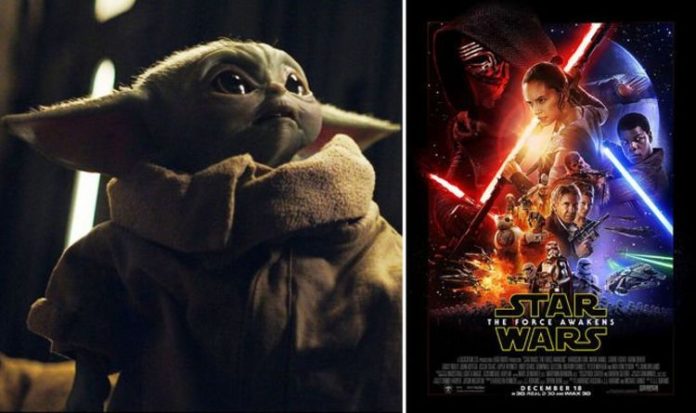 WARNING MAJOR SPOILERS AHEAD. The Mandalorian season 2 finale was full of action and tear-jerking moments, alongside one incredible original trilogy cameo. And the Star Wars sequel trilogy movies could help predict a worrying future for Baby Yoda aka Grogu in The Mandalorian season 3.
Chapter 16: The Rescue, saw the return of Mark Hamill's Luke Skywalker, thrashing his green lightsaber through enemy Dark Troopers on Moff Gideon's ship.
Five years older after the events of Return of the Jedi, the black-caped Skywalker had come to collect Grogu after the little fellow contacted him through the Force.
Following a touching goodbye with Mando, Baby Yoda spoke briefly with R2-D2 before Luke picked him up and took the youngling away.
And we know from the Star Wars sequel trilogy just what happened next.
READ MORE: Mandalorian fans can beam Baby Yoda into their home with awesome trick
Ben Solo, tempted to the Dark Side by Palpatine through Snoke, ended up destroying the Jedi temple and Luke's students within it in 28 ABY, as mentioned.
Maybe an older Grogu was killed there? Whatever the case, we wouldn't be surprised if he butts heads with a young Ken Ren in the future.
Plus, let's not forget that there are 25 years for Lucasfilm to play around with between the original and sequel trilogies, so no doubt there are plenty of adventures for Baby Yoda no matter his fate.
There's also the matter of just who saved Grogu from Anakin's infanticide in Revenge of the Sith.
Mace Windu's death by being launched out a window at the hands of Palpatine never actually confirmed the Jedi Master's death.
And George Lucas has said he's fine with the idea of Mace surviving, something that Samuel L Jackson wants to be true.
Perhaps, the purple lightsaber wielder quickly picked up Grogu knowing how special he was before going into exile with The Child.
No doubt, Lucasfilm have plans to fill in the gaps in the future via another Disney+ show.