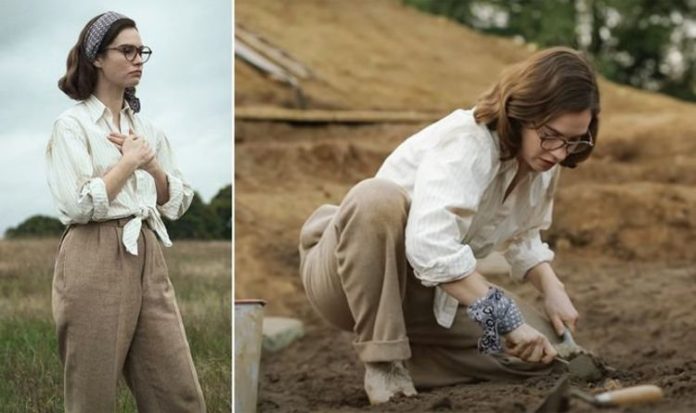 Netflix drama film The Dig about the Sutton Hoo excavation has proven to be quite the lockdown hit. Carey Mulligan stars as the widowed Edith Pretty opposite Ralph Fiennes' self-taught archaeologist, who she hires for a dig on her land in 1939. One of the fellow archaeologists who joins the team is Lily James' Peggy Piggott, portrayed as something of a bumbling and inexperienced sidekick who accidentally puts her foot through the top of an Anglo-Saxon burial chamber.
Far from having much to do with The Dig's excavation, Peggy spends much of the film being part of a Downton Abbey-esque romantic subplot.
But now Hampshire Live reports that archives kept by archaeologists from the county have proven that the real Peggy, who was aged 25 on the Sutton Hoo dig, was far from inexperienced in her field.
The documents found that two years beforehand she led a team who examined a large barrow on Latch Farm in the New Forest over the course of three weeks.
There, the archaeologist and her team found a prehistoric burial ground full of Bronze Age cremation urns.
READ MORE: The Dig: Netflix criticised for casting Carey Mulligan as Edith Pretty
Peggy, later renamed Margaret Guido after her second marriage, ended up publishing important academic papers on the use of these Bronze Age cremation urns.
The Hampshire Archaeology blog's David Allen said: "I would have thought Peggy's digging experience – particularly the work at Latch Farm – would have given her a good deal of self-confidence.
"She had to deal with a very eccentric local collector [Herbert Druitt] whose family had owned the land occupied by the round barrow – and sold it for development. Druitt got his hands on the first four vessels and wouldn't release them for publication.
"I think she probably had to put up with enough sexist and ageist prejudice there to last a lifetime."
After The Dig premiered on Netflix, Dr Rachel Pope, director of fieldwork at Liverpool University's archaeology department wrote how Peggy's portrayal "annoyed" her.
The archaeologist tweeted: "For the record, Peggy Piggott had already dug at Verulamium with the Wheelers and Prehistoric Society's flagship excavation at Little Woodbury with Gerhard Bersu by this point. She was an incredibly well-trained excavator by her early 20s. Had already published three papers.
"Yeah, I'm not happy about this. She was one of the best-trained excavators in Britain. She was not in any way 'clumsy.' Described to me by Jenny Price as having 'inexhaustible powers of leadership'. Annoyed now."
While Dr Susan Hakenbeck, a senior archaeology lecturer at Cambridge added: "Shout-out to Peggy Piggott, who at the time already had huge amounts of fieldwork experience under her belt. But why show a young woman competent at a skilled job when you can portray her in short skirts and a bit ditzy?"
DON'T MISS
The Dig: 'Crucial' piece of Basil Brown's treasure went missing [BASIL BROWN]
The Dig: Why the Sutton Hoo helmet wasn't shown in Netflix's hit movie [SUTTON HOO HELMET]
The Dig real life: Is the plot of Netflix movie The Dig a true story? [THE DIG REAL LIFE STORY]
In real life, Peggy and fellow archaeologist husband Stuart Piggott were invited to join the Sutton Hoo dig by excavation leader Charles Phillips.
However, in The Dig film, he's completely unaware of her experience and previous achievements.
The Netflix movie then sees her have an affair with the Sutton Hoo photographer, a male fictional character.
Some viewers found his introduction sexist too seeing as historically it was two female photographers, Mercie Lack and Barbara Wagstaff, who documented the excavation.
The Dig is an adaptation of 2007 novel The Dig, by Peggy's nephew John Preston.
According to The Times, he said: "I did make her slightly younger in the book, she was 27 when she did the dig in real life so to suggest that she was a grizzled professional is pushing it a bit… I tried to stick as far as possible in the novel to what had happened.
"But my main responsibility is to tell the story as vividly and engagingly as possible. Plainly the last thing I wanted to do was to in any way diminish the importance of my aunt or portray in an unflattering light but I genuinely think the book or indeed the film does that."
The Dig is streaming on Netflix.
READ THE FULL ARTICLE BY JOE GALLOP HERE