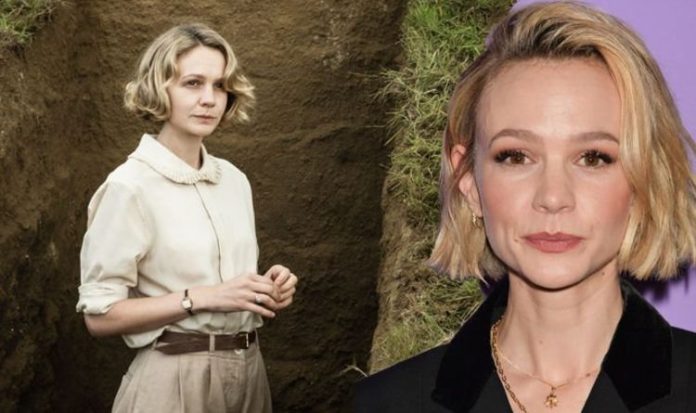 Netflix stunned viewers with the arrival of The Dig earlier this month. The untold story of Basil Brown finding the artefacts of Sutton Hoo has astounded newcomers to the tale, but some of the real-life history portrayed in the film has since been condemned. Noted actors and some vocal viewers on Twitter have hit out at the film for casting Mulligan in the role of a woman who was actually years older than her at the time. 
Mulligan, who is 35-years-old, plays Pretty who at the time of the dig in 1939 was 56-years-old.
Speaking out about this on Twitter, Poldark actor Beatie Edney, 58, asked: "Is it true the real life woman in The Dig, Edith Pretty, was 56 years old? They just won't allow women over 40 on the screen will they? #ageism #middleagedwomen."
Renowned Holby City and Bridget Jones star Catherine Russell, 55, echoed these sentiments, adding: "I don't blame Ms Mulligan, we all need the work, but please, if the part requires a woman of a certain age – FFS – give it to us!!!"
Viewers of the film were equally as perturbed when they also spoke up on Twitter about the casting choice.
READ MORE: The Dig: Peggy Piggott's 'bumbling' portrayal slammed by experts
One viewer wrote: "I really loved watching The Dig this afternoon but Edith Pretty would have been in her mid fifties and Carey Mulligan is 35! No wonder older female actors feel invisible."
Another questioned: "The Dig Thumbs down Carey Mulligan, in her 30s playing Edith Pretty, in her 50s. Is Hollywood struggling to find older actresses?"
With a third adding: "Looking up some of the history of Sutton Hoo after watching The Dig. Amazed yet also unsurprised to discover that Edith Pretty was actually older than Basil Brown."
Yes, at the time Basil was approximately 51-years-old, making him five years younger than Pretty when they first met.
During the film Lomax became entranced with nearby archeologist Peggy Piggott (played by Lily James).
Piggott is also based on a real-life woman, and was approximately 27-years-old at the time. The actor who portrays her, James, more-or-less matches up with her in age, as she is 31-years-old.
Lomax and Piggott get together during the film, and began a love-affair – but this didn't really happen.
Piggott's history came into question as well, because the movie shows the break-down of her marriage with fellow archeologist Stuart Piggott.
The Dig hints that Stuart is actually gay, and is far more interested in one of his male colleagues than his new wife, Peggy.
By the end of the movie the pair have split up – but this doesn't match up with the Piggotts' real-life story.
Stuart and Peggy actually split up in 1954, some 15 years after they helped out on the Sutton Hoo dig.
The Dig is available on Netflix now.