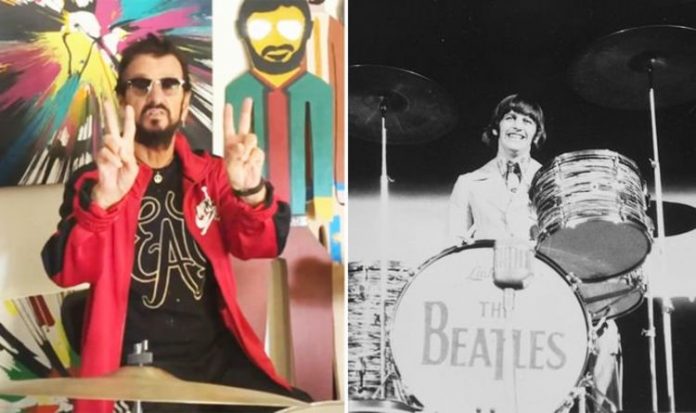 The pandemic has made 2020 a year many would like to put behind them. And now the ever-positive Sir Ringo Starr has shared an uplifting New Year's Eve message with hope for 2021. The Beatles drummer, who turned 80-years-old this year, posted the video for his fans on Instagram today.
Sir Ringo's post read: "Happy New Year!
"That's right Twenty20 almost over I don't know about you but I'm excited any minute now1 1. 21. happy new year Peace and love."
In the accompanying Instagram video, the 80-year-old was seen sitting at his drum kit with mask on.
Before removing the face covering, he said: "Well everybody, peace and love, peace and love, it's Ringo here!"
READ MORE: The Beatles reunions: Ringo on remaining 'good pals' with Paul
Next up, Sir Ringo showed off his other book Painting Is My Madness, highlighting his love of art.
Then, of course, there is his new single Here's To The Nights, which included Sir Paul McCartney on vocals.
The 80-year-old said: "That went great, so it's still there and it's a great one to sing on New Year's Eve.
"We're getting ready for…any day now, 1.1.21. Yeah! Let's see where that takes us."
Sir Ringo added: "So I want to send you peace and love. Have a great life and play it safe."
Putting his mask back on, The Beatles drummer signed off: "Better you play it safe because then you're keeping other people safe, as well as yourself. Peace and love!"
While the 80-year-old has released a new single, Sir Paul has put out his McCartney III solo album.
Speaking with Rolling Stone, Sir Ringo said: "He does [have a new record out], yeah — he's playing everything. This is Phase Three for him, or Series Three, and it only took him 50 years. I got up with him at Dodger Stadium here."
On their friendship, Sir Ringo said: "We're good pals. If he's in town, he comes, and if I'm making a record, I usually keep a track for him."
He went on to praise Sir Paul's bass playing, saying: "He's still the most brilliant bass player in my life.
"There's a lot of really good players out there, but I don't know any that are as melodic as him, and he understands it right away."
READ SIR RINGO STARR'S FULL INTERVIEW HERE