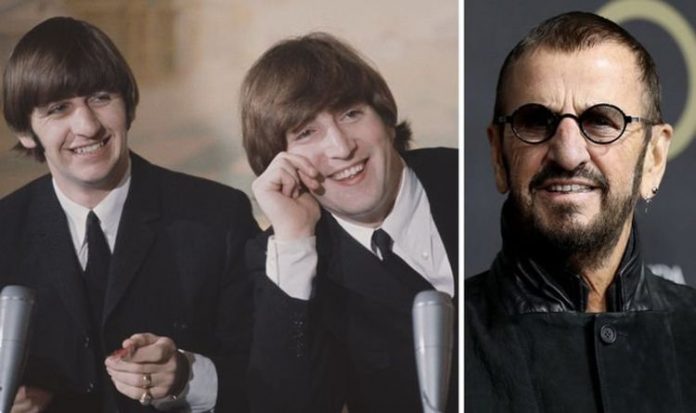 It was 40 years ago today that John Lennon's life was so tragically cut short. The 40-year-old was gunned down in New York City on December 8, 1980. Now, The Beatles drummer Sir Ringo Starr has paid a touching tribute to John.
Sir Ringo posted a picture of himself and John leaning on the front of a car, both beaming.
The 80-year-old wrote: "Tuesday, 8 December 1980 we all had to say goodbye to John peace and love John.
"I'm asking every music radio station in the world sometime today play Strawberry Fields Forever. Peace and love."
Credited to Lennon-McCartney, Strawberry Fields Forever was released in February 1967 as a double A-side single with Penny Lane.
READ MORE: The Beatles: Paul and Ringo celebrated John Lennon 80 in TOUCHING way
Sean Ono Lennon said: "I'm really grateful that he raised me here. We wanted to do something special.
"We wanted to keep his message and music out there in the world because there's a couple of new generations that haven't grown up with the mythology of The Beatles and my dad.
"So for us, it's really important to keep his message out there because peace and love and truth, especially for this year and the last few years, is a really important thing and it's sort of necessary."
Last year, Sir Ringo Starr said he still wells up at John Lennon's death.
Speaking with Rolling Stone, the 80-year-old said: "When John went, I was in the Bahamas. I was getting a phone call from my stepkids in LA saying, 'Something's happened to John.'
"And then they called and said, 'John's dead.' And I didn't know what to do. And I still well up that some b****** shot him. But I just said, 'We've got to get a plane.' We got a plane to New York, and you don't know what you can do."
The Beatles drummer went to the apartment at The Dakota and asked if there was anything they could do.
He added: "And Yoko just said, 'Well, you just play with Sean. Keep Sean busy.' And that's what we did. That's what you think: 'What do you do now?'"