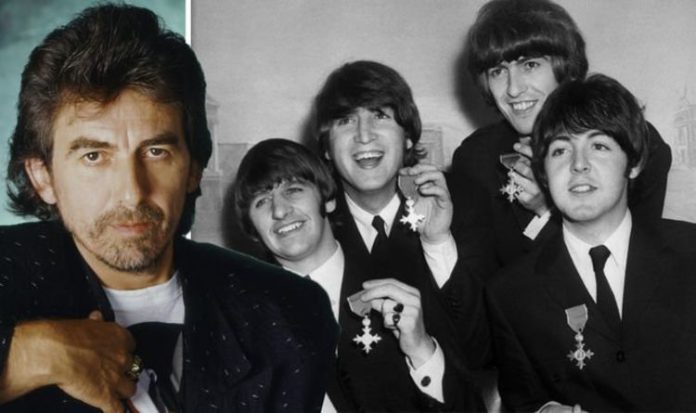 On this day, 19 years ago, The Beatles' George Harrison tragically lost his life to lung cancer. On November 29, 2001, the 58-year-old passed away from his illness in his Hollywood Hills mansion in the USA. He was surrounded by his family, including his wife of 23 years, Olivia Harrison.
Years later, it was reported that Harrison actually turned down an OBE just two years before his death.
According to a report at the time, the OBE was recommended for Harrison by the Department for Culture, Media, and Sport.
The department said Harrison "should be recognised for his contribution to the music industry".
The citation read: "He was a member of a band that many people would say is the best thing that Britain has ever produced, and possibly the best in the world, The Beatles."
READ MORE: The Beatles: George Harrison's FINAL words to Ringo Starr were heartbreaking
According to the report, however, Harrison turned down the honorary award – but no reason was given.
A friend of The Beatles, Ray Connolly, reportedly said that Harrison may have seen the OBE offer as an "insult".
The journalist explained that, following Sir Paul McCartney's knighthood in 1997, Harrison may have seen the offer of an OBE as a lesser award.
Connolly said: "Whoever it was who decided to offer him the OBE and not the knighthood was extraordinarily insensitive."
Harrison continued: "To tell the truth, I'd join a band with John Lennon any day, but I couldn't join a band with Paul McCartney."
He added: "It's nothing personal; it's just from a musical point of view."
Despite this apparent feud between Harrison and McCartney, the pair made up just before the former's death.
McCartney spoke openly about his final moments with Harrison in 2008.
McCartney emotionally recalled: "I sat with him for a few hours when he was in treatment just outside New York.
"He was about 10 days away from his death, as I recall. We joked about things – just amusing, nutty stuff.
"It was good. It was like we were dreaming. He was my little baby brother, almost, because I'd known him that long.
"We held hands. It's funny, even at the height of our friendship – as guys – you would never hold hands. It just wasn't a Liverpool thing. But it was lovely."
READ THE ORIGINAL REPORT HERE