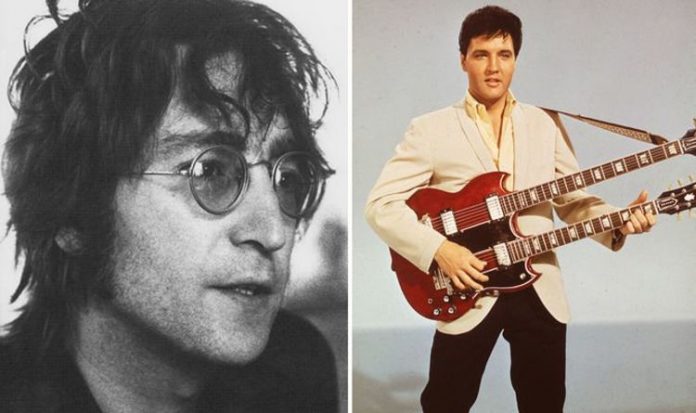 If you visit The King's home of Graceland today, just across the road from the mansion is a huge exhibit complex called Elvis Presley's Memphis. Inside the spacious halls is a display called ICONS: The Influence of Elvis Presley, which features artefacts owned by actors and musicians who have said they were impacted by The King. Of course, just like millions of other teenagers in the late 1950s, The Beatles were huge fans of Elvis and attribute his influence to their success.
John Lennon especially was a huge fan of The King growing up, famously saying: "Before Elvis, there was nothing."
And on display at the Graceland exhibit among all kinds of treasures items is a piano owned by the late Beatle.
Growing up in late 1950s Liverpool, Lennon remembers first hearing Heartbreak Hotel and watching Elvis on the big screen in Love Me Tender.
After seeing The King's debut movie in 1956, Lennon knew he wanted to do what Elvis did.
READ MORE: The Beatles: Sir Paul McCartney on meeting 'darn cool' Elvis Presley
According to The Beatles Story, Lennon said: "When I heard [Heartbreak Hotel], it was the end for me.
"Once I heard it and got into it, that was life, there was no other thing. I thought of nothing else but rock 'n' roll."
Of course, in the end, Lennon did get to meet his idol with The Beatles when The King invited the Fab Four to his Los Angeles home in Bel Air in 1965.
The band were reportedly so in awe of Elvis that The King had to break the ice joking he'd have to go bed if they just sat their in silence.
According to Paul McCartney's 1997 authorised biography, Many Years From Now, the Beatle said: "I always thought [his time in the military] ruined Elvis.
"We liked Elvis' freedom as a trucker, as a guy in jeans and swivelin' hips. But [we] didn't like him with the short haircut in the army calling everyone 'sir.'"
On Elvis' post-army songs like Hard-Headed Woman, McCartney said: "There's a dreadful great big trombone right in the middle of it, and we thought, 'What in hell has happened?' It just seemed he'd gone establishment, and his records after that weren't so good."
While in one of his final interviews, just two days before his death in 1980, Lennon also said the army was a big turning point for The King.
Lennon told BBC Radio 1: "When Elvis died, people were harassing me in Tokyo for a comment.
"Well I'll give it yer now, he died when he went in the army. That's when they killed him. The rest of it was just a living death."
The 40-year-old felt the experience was the equivalent of Elvis going to a monastery to withdraw.
The Beatle added: "But [it wasn't like] going to a Zen monastery and going to India to meditate. Or going to Scotland and growing melons or something, whatever they're doing up there in that place."