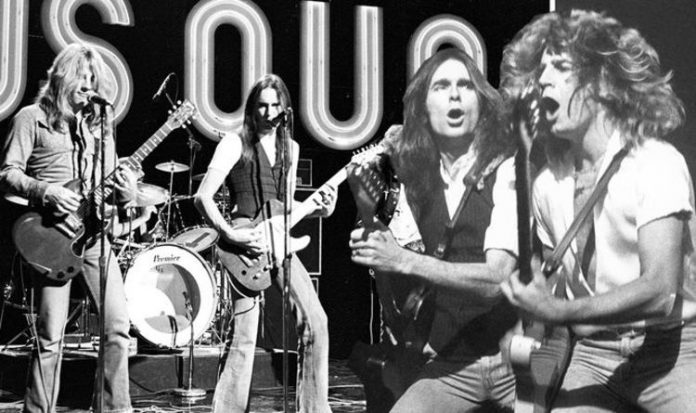 Status Quo has been rocking on the circuit since the 1960s, with an ever-changing list of members. It was formed in 1962, and they have had big hits with Whatever You Want and Rockin' All Over the World. Express.co.uk looks into the line-up – so who has been in Status Quo?
Status Quo has had 15 members, though if you include touring members, the number increases to 18.
The band was originally founded by friends who met at Sedgehill Comprehensive School in Catford, London.
The two founding members were Francis Rossi and Alan Lancaster, who enlisted the help of their friends Jess Jaworski, who played the keyboards, and drummer Alan Key.
At this point, in 1962, the band was called The Scorpions, but a year later, after Alan Key left the group and was replaced by John Coghlan, they were called The Spectres.
READ MORE:  George Michael death: How did George Michael die? 'Broken heart'
They performed at some gigs and got the attention of pop manager Pat Barlow, after which Jess was replaced by Roy Lynes in 1965.
That same year, Francis met Rick Parfitt and they began working together, though Rick was in a different band.
By 1967, the group had changed its name twice to Traffic, then to Traffic Jam, and had released some singles which had not made much of an impact.
In the summer of 1967, Rick joined the band officially and they renamed to Status Quo.
Pictures of Matchstick Men was their first single to make a dent, which was released in early 1968 as Rick joined, and it made it into the Top 10, and was the only record to make it into the Top 40 in the USA.
As they were receiving more plaudits at this point, Bob Young was taken on as a roadie and tour manager, and he contributed to songwriting and became a de facto member of the band, though has only ever been known as a touring member.
In 1976, Roy left the band and was replaced by Andy Bown after various other musicians took the spot – though Andy only gained official Status Quo membership in 1982.
While Roy's position was being filled, the line-up became what is known as the Frantic Four: Francis, Rick, John and Alan.
DON'T MISS
In the 1970s the band had moved away from its psychedelic sound and more towards heavy rock, releasing Piledriver and songs like Rockin' All Over the World.
In 1981, John left the band, and a 10-year period of changing memberships continued.
Pete Kircher replaced John, and while other members recorded solo albums, the group enlisted the help of John "Rhino" Edwards and drummer Jeff Rich on a new album.
Alan left the band at this time, and a court case went on to stop the band from performing under its name, though this was settled out of court.
Alan then formed a supergroup in Australia, formally leaving the band in 1987.
For the following 20 years, the band mainly consisted of Francis and Rick, though Rick chose to leave the band in 2000, at the same time Matt Letley joined as the new drummer after Jeff's departure.
The band made few appearances before 2010, and occasionally performed on TV or at festivals in the years between 1991 and 2010.
In 2010, Rick and Francis received honours from The Queen for contributions to music, and in 2013 Matt was replaced by Leon Cave on the drums.
There had been rumours the band had patched things up with Alan, and before Leon's arrival the Frantic Four line-up of Francis Rossi, Rick Parfitt, Alan Lancaster and John Coghlan reformed for a small number of gigs.
The group with members Francis, Rick, John Edwards, Andy Bowen and Leon Cave kept performing until, in 2016, Rick retired from touring.
On December 24, 2016, Rick died in hospital in Marbella, Spain as a result of severe infection.
In 2019 the band kept performing without Rick, with him being replaced by Richie Malone, meaning the current line-up only includes one original member: Francis Rossi.