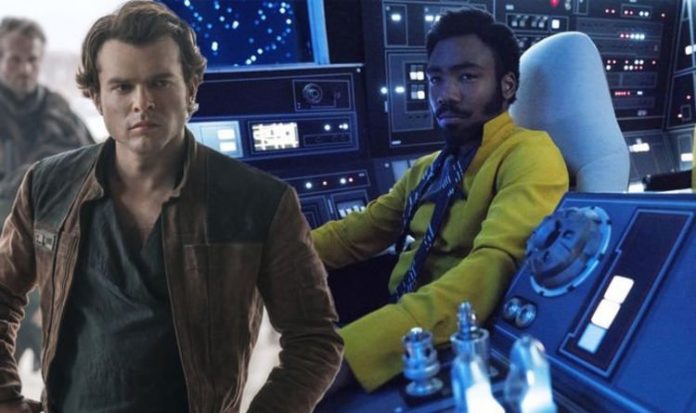 Following the booming cult success in the 1980s Star Wars was resurrected by Disney in 2015 with the arrival of The Force Awakens. The trilogy ended off last year with The Rise of Skywalker, concluding the story of Rey (played by Daisy Ridley), and Finn (John Boyega). In between episodes seven, eight, and nine, two spin-off films were released – Rogue One: A Star Wars Story, and Solo: A Star Wars Story.
While Rogue One performed well at the box office, Solo faltered, making just $393million from a $300 million budget.
The 2018 movie starred Alden Ehrenreich as Han Solo, and wowed fans with the tale of how the legendary swashbuckler came across his iconic spaceship, the Millennium Falcon, and his dear friend Chewbacca.
Solo was originally planned to kick off a trilogy of films, but those plans have now been scrapped.
Recently, director of the film, Ron Howard, has spoken out about how fans' support may help the sequel's resurrection.
READ MORE: Star Wars: John Boyega CONDEMNS Disney for sidelining his character
Speaking to the Light, Camera, Barstool podcast, Howard said: "I think there is interest in those characters.
"I think there's interest in [the] gangster world… somewhere down the line."
He went on to add that there may be hope in the future for Solo's return.
Ron continued: "One great thing is that there's been a lot of affection shown for Solo kind of in its afterlife, and so of course that keeps boding well for them to eventually turn it around."
It was confirmed earlier this year that Waititi will be directing a new trilogy, kickstarting a brand new series in the universe.
The most recent exciting news for Star Wars fans surrounds Rogue One's Jyn Erso.
Jyn Erso was killed at the end of the 2016 film after successfully couriering the Death Star plans to Princess Leia (Carrie Fisher).
Earlier this month Jyn Erso star Felicity Jones teased a return for the character, telling The Hollywood Reporter: "I just keep saying that reincarnation is totally possible in the Star Wars universe."
Felicity added: "So, I feel there's unfinished business for Jyn, for sure.
"I think it would be fascinating to see her getting older and wiser and fighting the dark forces in the universe, of which there are many it seems."
Jyn Erso wouldn't be the first character to be resurrected, as The Rise of Skywalker saw the return of Emperor Palpatine (Ian McDiarmid).
The Star Wars films can be watched on Disney Plus now.