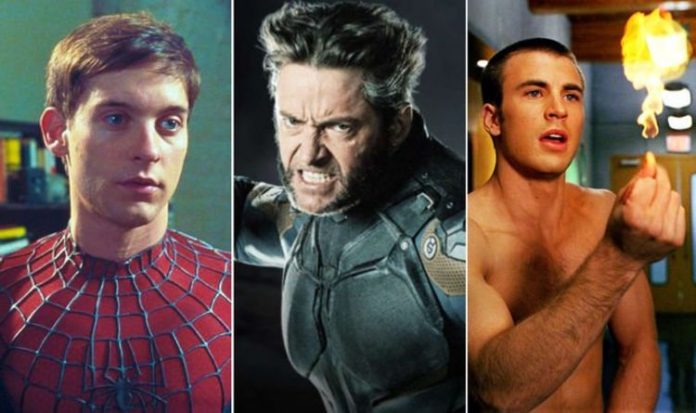 In the last couple of days, the cast of next year's untitled Spider-Man 3 has suddenly become very, very exciting. While Doctor Strange was confirmed a while back, the superhero sequel is now bringing back Sony Spider-Man movie stars Tobey Maguire and Andrew Garfield for a live-action Spider-Verse. They're set to be joined by love interests MJ (Kirsten Dunst) and Gwen Stacey (Emma Stone), plus villains Doctor Octopus (Alfred Molina) and Electro (Jamie Foxx).
While also rumoured are Charlie Cox's Daredevil from the Marvel Netflix show and previous Sony Green Goblin stars Willem Dafoe and Dane DeHaan.
Now considering the fact that Marvel Phase 4 is set to explore the MCU multiverse as a whole and Disney's Marvel Studios now have full control of the Fox Marvel superheroes, it looks like Avengers 5 or a similar epic could well follow much-loved Marvel Comics storyline Secret Wars.
Fans will know Secret Wars saw the destruction of the Marvel Universe and other alternate realities.
Each universe's Earth combined into Battleworld, a planet that combines different aspects of the various dimensions.
READ MORE: Spider-Man 3: Green Goblin stars 'in talks to reprise roles'
There on Battleworld, different versions of the same Marvel characters were able to exist at the same time.
This included many incarnations of Thor acting as a peace-keeping force.
And interestingly, we're already getting Jane Foster's The Mighty Thor in Thor Love and Thunder alongside Chris Hemsworth's Asgardian god.
Plus, that's a film that will be released a couple of months after Spider-Man 3 and a few before Doctor Strange in the Multiverse of Madness.
Of course, Wolverine died in Logan, but some of the returning Sony Spider-Man characters are deceased too.
These could be earlier incarnations of the characters or alternate versions of them.
Heck, maybe even Chris Evans would reprise his Human Torch from Fantastic Four or Robert Downey Jr return as an alternate Iron Man who didn't have to die in Avengers Endgame.
The possibilities are endless and an incredibly exciting way to match the pure epicness of Avengers Endgame, without letting the MCU peak there.
By introducing a Secret Wars movie, Disney could well bring the MCU, Sony, Netflix and Fox universes together in one huge multiverse.
Meanwhile, Warner Bros' DCEU appears to be doing something similar with its 2022 Flash movie.
The DC blockbuster will feature multiple Batman stars in Ben Affleck and Michael Keaton, while other former Dark Knights are rumoured to have been approached to appear.
Similarly, Ezra Miller's movie Flash cameoed in TV show Crisis on Infinity Earths so it looks like the DC TV shows are part of that shared multiverse too, although don't expect a Marvel v DC epic anytime soon!