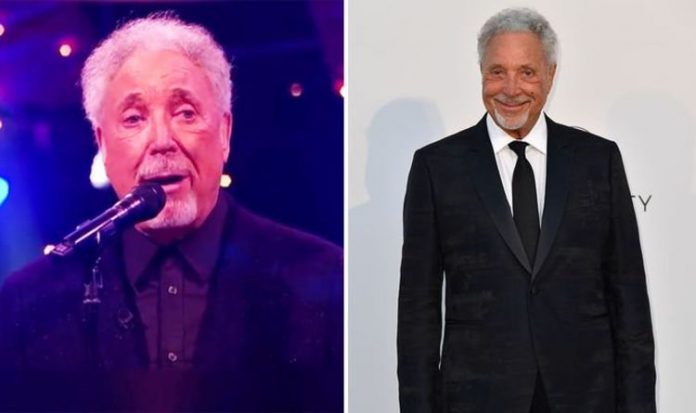 Sir Tom Jones turned 80-years-old this year as his birthday tour was sadly postponed due to the pandemic. Nevertheless, the singer has kept positive and most recently performed for Jools Holland's Annual Hootenanny on New Year's Eve. And in the last 24 hours, he's posted a clip of his performance of Blue Moon with Celeste for fans to enjoy.
Sir Tom wrote on Instagram: "The moon was blue last night with the boogie-woogie of Jools Holland & his Rhythm & Blues Orchestra and the magical Celeste. Happy new year to you all x." Fans can watch the full New Year's Eve show on BBC iPlayer.
Meanwhile, tonight sees the return of The Voice UK with Sir Tom once again joining the judges.
The 80-year-old posted a picture of himself with lightning coming out of his left hand.
He wrote: "Tis the season to hit some buttons! The Voice UK returns tonight 8.30pm ITV."
READ MORE: Tom Jones 'humbled' by fans streaming his music in their MILLIONS
Despite turning 80-years-old, Sir Tom has no intention of retiring anytime soon. He told BBC Radio 2 in the summer: "I don't want to stop!
"God has been good to me and my voice is still there. So as long as it's there I wanna get up… singing live to people is the thing."
At the time of his birthday on June 7, the star posted on Instagram: "Wow 80 years young today! It's a great feeling to hit this milestone.
"I've been blessed with so many extraordinary experiences and have had the privilege of meeting and working with outstanding, talented and inspiring people across many generations. It's amazing when I think about it!"
Sir Tom added: "To have a life in music, along with love, family, friends, and the most loyal fans throughout the years – who have allowed me to continue to record and tour the world for over fifty years, is truly an honour.
"Seeing and reading your goodwill birthday messages today especially during the lockdown, have really lifted my spirits and I am really looking forward to the future.
"Getting back out on tour and releasing new music, when the time is right. We will celebrate again."
Sir Tom Jones fans can book tickets for his 2021 UK and European tour here.