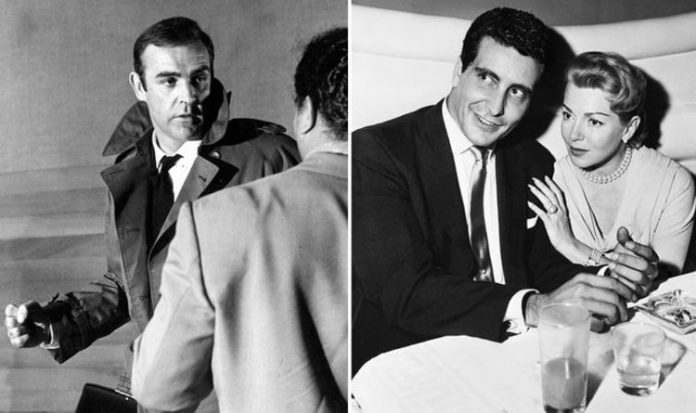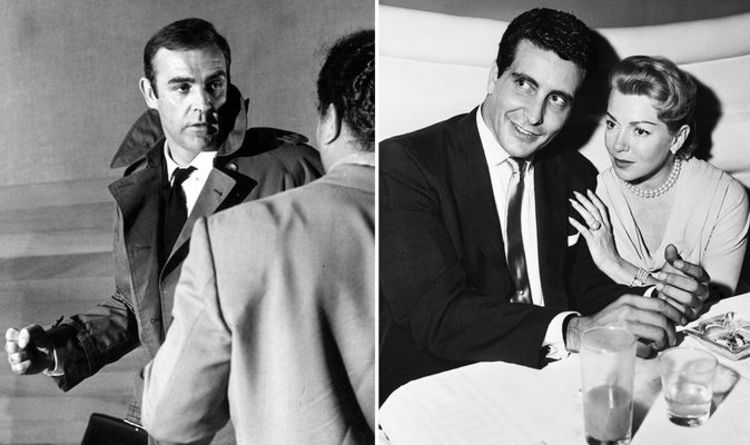 Before he was James Bond, Sean Connery featured in film drama Another Time, Another Place opposite Hollywood star Lana Turner, who would have been 100-years-old on Monday. The actress, whose career wasn't as hot as it used to be, played an American journalist who had an affair with a war correspondent 10 years her junior, played by Connery. During the 1957 shoot in London, rumours in the press claimed the two actors were actually having an affair, which Lana's mob enforcer boyfriend Johnny Stompanato did not take well.
Johnny was the bodyguard and enforcer of gangster Mickey Cohen and in the mid-1950s was in an abusive relationship with Lana.
When he heard rumours surrounding his girlfriend and the future James Bond, the thug called her up, threatening to kill or disfigure her.
Johnny then flew to London to take on Connery, but Lana told her lover to stay away from the Another Time, Another Place set.
Ignoring her, he arrived at the studio in Borehamwood, Hertfordshire where the two stars were shooting a scene in which they were embracing on a couch.
READ MORE: Sean Connery final James Bond performance saw generous turn by star
Johnny walked right into the shot pointing his gun at Connery, telling him to get his hands off Turner.
But despite being a mobster he was no match for the Scottish bodybuilder and karate black belt.
According to Den of Geek, the future Bond grabbed Johnny's wrist, twisting it until his gun came loose and then took him down with one punch.
Lana then called up Scotland Yard to escort her boyfriend off-set. The gangster was subsequently deported for breaking England's gun laws, but the story didn't end there.
On April 4, 1958, Johnny was killed at Lana's Beverly Hills home when her 13-year-old daughter Cheryl Crane stabbed the mobster in the stomach with a butcher knife.
She had heard the couple arguing in the bedroom and grabbed the knife fearing for her mother's life over the threats Johnny was making.
Crane said in 2012 on CBS: "There's a knife on the counter. I picked it up ran back up the stairs. Her door suddenly flies open. I see John coming toward me. He's got his hand up… I raised the knife and he walks right into it. And he looked at me. And he said, 'My God, Cheryl, what have you done?'"
Johnny's killing was ruled a justifiable homicide, but the gangster's family sued Lana for damages.
DON'T MISS
James Bond: Sean Connery's deal to return for Diamonds Are Forever [DIAMONDS ARE FOREVER]
Sean Connery dead: His James Bond movies RANKED [JAMES BOND MOVIES]
Sean Connery at 90: What the greatest James Bond REALLY thought of 007 [SEAN CONNERY]
A month later, Connery was shooting Disney movie Darby O'Gill And The Little People in Los Angeles.
Following Johnny's death, excerpts from his private letters to Lana were published in the Hollywood press and included his feelings about Connery taking her and Cheryl to London shows.
Mobster Cohen believed Lana had murdered Johnny, was not pleased with all the publicity and wanted revenge on anyone linked to his enforcer's death.
Well, Connery was staying at the Hollywood Roosevelt Hotel when shooting Darby O'Gill in LA at the time.
At the hotel, Connery received a phone call from either Cohen or one of his men saying: "Get out of town or a contract will be put on your life".
Unsure of how serious the threat was, the future Bond decided to move on the advice of Disney and went to stay at the Bel Air Palms Motel in San Fernando Valley until things cooled down.
Lana, who had been married four times by 1958, went on to wed and divorce another three men.
The Hollywood Golden-era star, best known as a 1940s leading lady for MGM, died in 1995 aged 74 of complications from cancer.