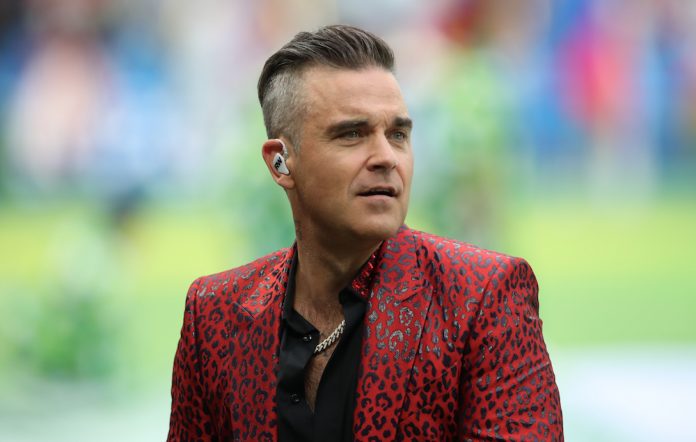 [ad_1]

The star performed at the opening ceremony of the international football tournament last week
Robbie Williams has explained what he meant by that middle finger gesture at the 2018 FIFA World Cup.
The singer performed a short medley of some of his biggest hits at the opening ceremony of the international football tournament in Moscow last week (June 14), when he was pictured raising his middle finger to the camera.
Appearing on This Morning earlier today (June 19), Williams discussed his appearance. "At these things, it's really important not to cause an international incident," he said. "And do you know what? I managed it.

He continued to say the controversial gesture was to indicate there was "one minute to kick-off." "I was under a lot of pressure because there was one minute left and I didn't know if I could do it in half a minute," he said. "So I just did a one-minute countdown.
"I can't trust me," he added. "I don't know what I'm going to do at any time. The plan was to sing in key, don't fall over. That was the plan and 99 percent of that plan, I pulled off. Nothing actually passes into my head. There's a block between me and sense, and something happened and five minutes later I'm like, 'Did I just… yeah I did, didn't I?!'"
Williams came under fire for his performance for another reason. Critics had called upon the former Take That member to boycott the ceremony after Russia were allegedly involved in the poisoning of Sergei Skripal.
The head of the Global Magnitsky Justice campaign Bill Browder tweeted: "There's lots of ways to make money @robbiewilliams, but selling your soul to a dictator shouldn't be one of them. Shame on you."
[ad_2]