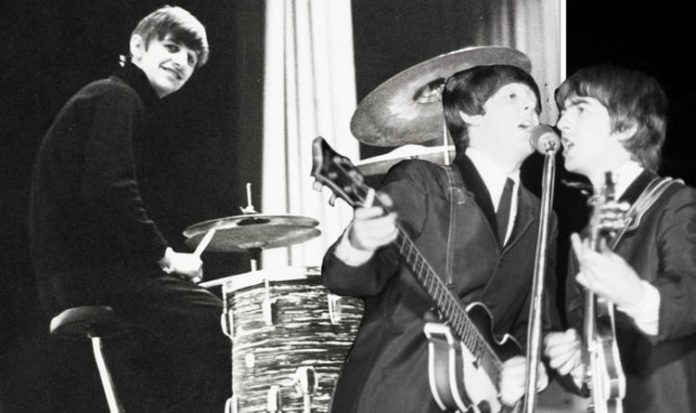 Ringo Starr was not the first drummer to join The Beatles, but was instead a later addition to the line-up. His arrival came in the nick of time, however, and Sir Ringo was in the group when their biggest successes took place. So when did Sir Ringo join The Beatles, and who was in the band before him?
Sir Ringo Starr joined The Beatles on August 18, 1962, after being hired by Brian Epstein, the band's manager.
He was not the band's first drummer, and was in fact a replacement for a drummer who did not impress their producer, George Martin.
This drummer was Pete Best, a man who had been with the group for some time, but failed to remain a part of the band when their success came.
Pete was only fired from the group days before Sir Ringo was hired, which would have made his dismissal even more bitter when the band's first album, which featured neither his work or Ringo's, was hugely successful.
READ MORE:  Fleetwood Mac Rumours: How divorce and drama was behind the album
The band, who had become a four-piece after they lost their bassist Stuart Sutcliffe following a short residency in Hamburg, were rejected when they tried to get signed.
They made further recordings in 1962 for EMI and were signed, after which they started recording their first proper record.
It was during this time concerns were raised about Pete's drumming, when George Martin replaced him with a session drummer for their first song Love Me Do.
The producer explained this decision in The Beatles: Anthology: "I decided that the drums, which are really the backbone of a good rock group, didn't give the boys enough support.
"They needed a good solid beat, and I said to Brian, 'Look, it doesn't matter what you do with the boys, but on record, nobody need know. I'm gonna use a hot drummer'.
"Brian [Epstein] said: 'Okay, fine'. I felt guilty because I felt maybe I was the catalyst that had changed his [Pete's] life…"
When John Lennon, Sir Paul McCartney and George Harrison, Pete's other bandmates, realised the engineers wanted them to replace Pete with a session drummer for their upcoming recording session in September, they decided to permanently remove him from the group to avoid losing their deal.
According to Cynthia Lennon, John's then-wife, the boys asked Brian to sack Pete from the band, and he dutifully obliged.
DON'T MISS
However, Brian remembered it differently and said in his autobiography he "was not anxious to change the membership of the Beatles at a time when they were developing as personalities … I asked the Beatles to leave the group as it was."
As well as that, Pete was also very popular with fans, so the decision was difficult for Brian, and he wrote years later: "If the group was to remain happy, Pete Best must go."
In the end, however, Ringo's work in the band was not seen until later in the group.
His first sessions with The Beatles saw him being replaced on the drums, and instead he played the tambourine.
However, he was a hit with fans and in the end he kept his role in the group.