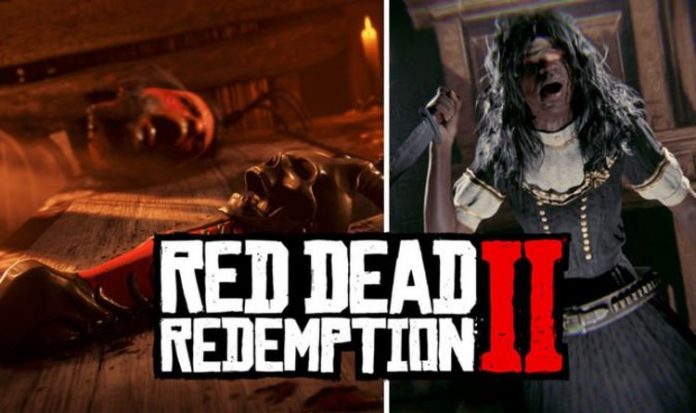 Red Dead Redemption 2 players can purchase the brand new Halloween Pass on PS4, Xbox One and PC.
The long-rumoured Halloween Pass is available in-game for 15 Gold Bars. Consisting of 20 ranks, players can level up the Halloween Pass to earn a selection of spooky rewards.
"The Halloween Pass is a purchasable, limited-time upgrade stacked with macabre rewards across 20 ranks, available today running through November 16," reads the official description.
Rewards include a selection of "unique and seasonal personal effects", as well as a Gothic renovation of the Moonshine Bar, Mystical variations of full weapons, and filters for the newly introduced Advanced Camera.
As you can see from the Halloween Pass image below, other rewards include bonus tickets and other spooky items, such as horse masks and blindfolds.
"All Halloween Pass Rewards up to your current Pass Rank carry over and unlock instantly once you purchase the Halloween Pass through the Wheeler, Rawson & Co. catalogue or via your Progress menu," Rockstar continues.
"Everything you unlock during the Halloween Pass season – from today until November 16 – is yours to keep after the Halloween Pass expires."
Outside of the Halloween Pass, players can unlock a selection of free items as part of a free membership to the Wheeler, Rawson & Co. Club.
"Even more rewards are available for all players – such as the Phantom Buck Horse Mask and the Noir Advanced Camera filter – via free and automatic membership to the Wheeler, Rawson & Co. Club.
"As an act of appreciation to all customers, the company presents an automatic and free way to unlock and acquire Rewards as you accumulate XP (including Role XP) in Red Dead Online."
In addition to the Phantom Buck Horse Mask and Advanced Camera Filter, players will receive bonus cash and coupons, as well as Ammo parcels.
It's likely Rockstar will follow up the Red Dead Redemption 2 event with something similar in GTA 5.
The Grand Theft Auto 5 Halloween Surprise event is expected to launch around October 29 on PS4, Xbox One and PC.
If it's anything like previous events, fans can expect new vehicles, items and other Halloween-themed rewards.
There's also a chance Rockstar will bring back the ability to transform into random animals by consuming certain plants.