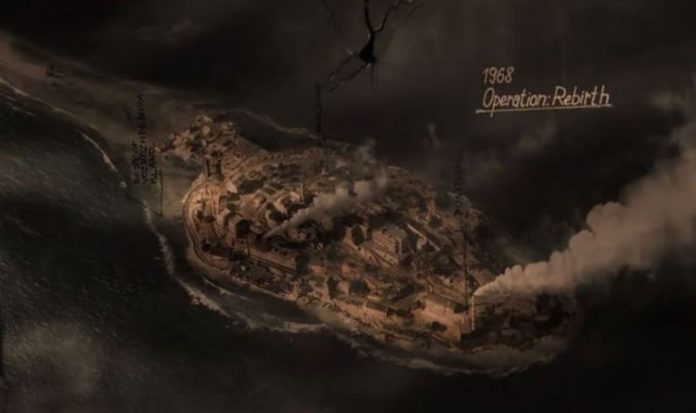 Gamers got their first official look at Rebirth Island today, via an official Call of Duty Warzone and Black Ops Cold War Season 1 Trailer.
The new footage focused on the storyline being played out during Season 1, but also gave a good look at the new Warzone map.
Activision had already confirmed that a new map was in the works earlier this year, telling gamers at the time:
"Battle Royale is set to go beyond Verdansk: prepare to drop into a new Warzone map and mode at launch. Warzone's arsenal gets even bigger with over 30 Black Ops Cold War base weapons, as well as Blueprint variants! Also, make sure you're ready to face down fellow prisoners of Warzone in a new Gulag experience."
A series of leaks confirmed the existence of Rebirth Island, confirming that an Alcatraz-style map was being planned.
And today's trailer showed the same image of Rebirth Island, while also telling the story of Russel Adler, who visited the location to discover a Nova 6 production line.
With that Black Ops lore now established, the first look at the new Warzone map confirms it's not going to be as big as Verdansk.
If it follows the Blackout rules of being able to respawn is anyone's guess, although Activision has confirmed that they will be sharing more news on Black Ops Season 1 this week.
"Over the next week, expect additional communications on this channel, as well as the Treyarch blog, and across social media, as we ensure you are updated as frequently as possible.
"During this time, content updates for Black Ops Cold War, as well as Warzone and Modern Warfare are scheduled to occur."
While the new reveal is exciting, we also know that a much larger trailer is being planned for later this week.
Activision has confirmed that the footage will debut at the Game Awards, which is being held on December 10, 2020.
And for those who don't have enough time to catch the full show, Activision has revealed that they will be showing the new Black Ops Trailer at 4pm PT.
For gamers in the UK, this will mean tuning in at around midnight on December 11 to catch whatever is being shown.
"Prepare for an incredible amount of free content in Black Ops Cold War, including new multiplayer maps, new and fan-favourite 6v6 modes and playlists, the return of 2v2 Gunfight with four new maps, and a massive new Fireteam map.
"This offering includes a battle through a sprawling luxury complex within the Hollywood Hills of Los Angeles. That's right: the legendary Call of Duty: Black Ops II 6v6 map known as Raid will be ready to play in Black Ops Cold War at Season One launch.
"Make room on your Gunsmith table for free-to-acquire weapons and prepare for new Zombies modes, Season Challenges, and the full cross-title launch of the Seasonal Prestige system, with up to 1,000 Season Levels to progress through!
"It's an unprecedented amount of free content and the teams are currently prepping for the biggest Season One launch week ever seen.
"For this to occur, we're taking a few more days to finalise everything before unleashing this massive drop of new, free content to the community."