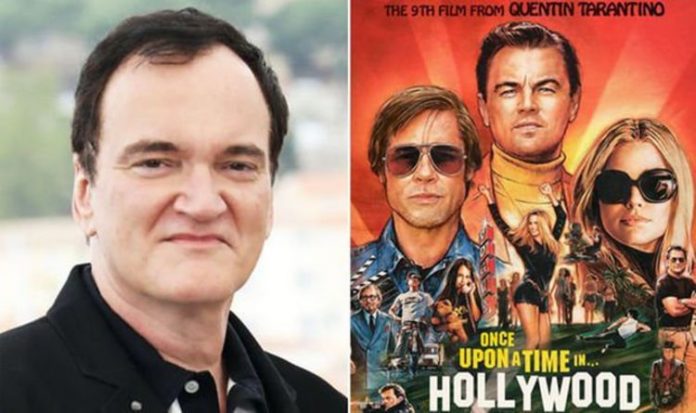 The acclaimed Hollywood director is switching filmmaking for novel-writing – for now anyway. Quentin Tarantino has previously teased he would get around to writing books after completing his 10 movies. And with only one left to go, he's already got a two-book deal confirmed.
HarperCollins have announced today that Quentin Tarantino will pen a novelisation of his ninth movie Once Upon a Time in Hollywood.
The book will be the 57-year-old's first printed work of fiction and is set to be published in summer 2021.
The novel won't be a typical re-telling of his 1969 tale starring Leonardo DiCaprio's Western TV star Rick Dalton and Brad Pitt's stunt double Cliff Booth.
Instead, Tarantino is planning a "fresh, playful and shocking departure from the film", following Dalton and Booth before and after the reimagined Manson Murders setting.
READ MORE: Ennio Morricone: Quentin Tarantino included a nod to the composer
Tarantino said: "In the '70s, movie novelizations were the first adult books I grew up reading. And to this day I have a tremendous amount of affection for the genre.
"So as a movie-novelization aficionado, I'm proud to announce Once Upon a Time in Hollywood as my contribution to this often marginalized, yet beloved sub-genre in literature.
"I'm also thrilled to further explore my characters and their world in a literary endeavour that can (hopefully) sit alongside its cinematic counterpart."
But his novel isn't the only book the director is working on, with a piece of non-fiction coming soon too.
According to Variety, Tarantino's other book is called Cinema Speculation and will be his deep dive into 1970s cinema, featuring his own essays and reviews.
On the two-book deal HarperCollins' Vice President and Executive Editor Noah Eaker said: "Quentin Tarantino's literary talents have been in plain sight since his first scripts.
"But to see how skilfully he endows his characters with life on the page and how he constantly takes a reader by surprise, even one who knows the movie by heart is to see a master storyteller trying on a new form and making it his own."
Once Upon a Time in Hollywood was nominated for 10 Academy Awards including Best Picture, while Brad Pitt won the Best Supporting Actor Oscar.
What will be Tarantino's tenth and final movie is still unknown, however, there are some possibilities.
The 57-year-old has previously said how he had an idea for a Bonnie and Clyde-esque story set in 1930s Australia.
While there's always Kill Bill Vol 3, which would follow the grown-up daughter of Copperhead who witnessed Uma Thurman's Beatrix Kiddo murder her mother as a child in the opening of Kill Bill Vol 1.
The Bride told little Nikki Bell that if she wanted to seek revenge one day, she'd be waiting.
Earlier this year, Express.co.uk spoke with Copperhead actress Vivica A Fox, who said she would "absolutely" love to star in flashback scenes of a Kill Bill Vol 3.
Asked who she'd like to play her grown-up daughter, Fox initially backed the child actress from Kill Bill Vol 1's opening.
The 56-year-old said: "I think they should go after the young girl who did it, Ambrosia Kelley. She's beautiful, I hope she's still acting.
"If not, if I could have my dream daughter? Zendaya. She's tall, she's got those long legs; she would kick ass!"