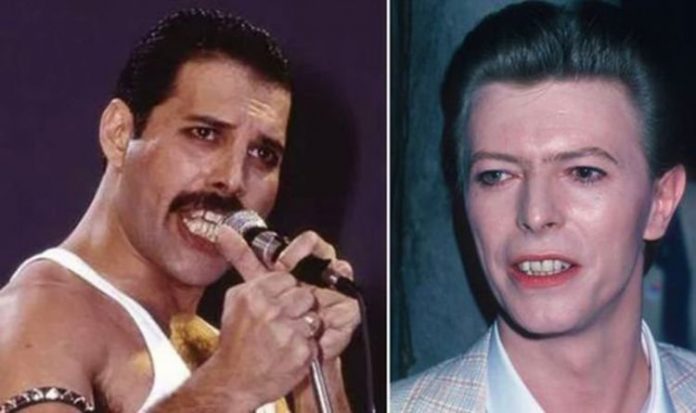 Under Pressure became Queen's second Number One single in the UK (after Bohemian Rhapsody, of course) when it was released on October 26, 1981. Almost as incredibly, Bowie himself had only had two chart-toppers before that – Space Oddity and Ashes To Ashes. The stories around the creation of the single and its iconic bassline have become legendary, mainly centered on the clash of egos between the two frontmen. But few know that the pair had met many years before, although Bowie probably didn't remember.
Long before he joined Queen, Freddie was desperate to be part of a band or be around other musicians.
While studying fashion at Ealing Art College, Freddie would play the piano in the main hall and travel to pubs and venues where up and coming bands were performing. One day in Spring 1969, the as-yet-unknown David Bowie swaggered in and Freddie rushed to make himself useful.
Bowie was booked to play a small lunch-time gig and a put a fascinated Freddie to work.
READ MORE: Brian May shock confession 'I doubted Freddie Mercury was right for Queen'
Mercury and Taylor had not turned out to have any real head for running a business, however small.
They were taken on by well-known Kensington Market trader Alan Mair, to help with his much more popular stall. Mair knew David Bowie's early manager at the time which lead to the budding star popping by one day.
Mair told the story in Is This The Real Life. "Space Oddity had been a hit, but he (Bowie) said he had no money. Typical music biz!" 
What happened next is the stuff of showbusiness legend.
Mair added: "I said, 'Look, have them for free.' Freddie fitted Bowie for the pair of boots.
"So there was Freddie Mercury, a shop assistant, giving pop star David Bowie a pair of boots he couldn't afford to buy."
Freddie fansite FreddieMercuryClub shared an image of the two stars with details of the story, which first appeared in Rolling Stone.