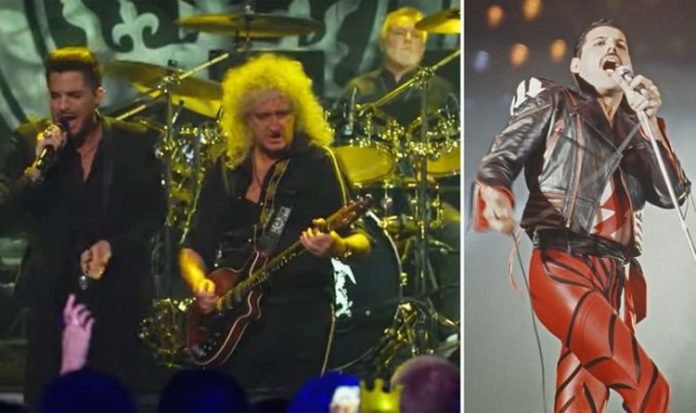 Last year Queen and Adam Lambert released their first album together in Live Around The World. Available in a variety of different formats, the UK No 1 compilation of show highlights has now been released as a concert film to download and rent today. And to give fans a taster, Brian May and Roger Taylor have shared one with the trio performing Freddie Mercury's Love Kills.
May posted on Instagram this morning: "ANNOUNCEMENT !! This morning at am London time our whole Live Around the World extravagance goes digital ! Sonically and Visually !
"So finally you can download it, purchase it or rent it or whatever … yes – eat it – and this lovely track is part of it.
"Links are in my Slink – or check Queen on Line. Enjoy !!! In these frustrating times we all need a chance to rock out !!! Cheers folks !!! Bri X."
While drummer Taylor also shared his enthusiasm for the release this morning wishing fans a "happy viewing".
READ MORE: Andrea Bocelli: Matteo Bocelli sings Freddie Mercury's Love Of My Life
On the newly released digital version of the concert film, Lambert (who turned 39 today) said: "If you're looking to have that rock and roll concert experience at home while we're stuck here right now…dress up, put some glitter on, and have an amazing time with us…" 
Previously released on physical formats, the live highlights movie features renditions of the biggest Queen hits and best moments from almost a decade of touring.
One particularly memorable one was a performance of Fat Bottomed Girls in Texas when the Dallas Cowboys Cheerleaders came on stage and danced with the band in unison.
Plus, of course, Freddie is paid tribute to throughout. Alongside Love Kills is solo track I Was Born To Love You, The Show Must Go On and May's acoustic version of Love Of My Life – with the latter seeing a virtual Freddie join him in duet.
DON'T MISS
Elvis Presley relationships: Friend reveals the 'HEARTBREAKING' truth [ELVIS RELATIONSHIPS]
Elvis Presley presence felt upstairs at Graceland by cousin [ELVIS GHOST]
Freddie Mercury: Queen drummer Roger Taylor shares a touching picture [FREDDIE]
But perhaps the concert film's biggest highlight has to be the full six-song set from Fire Fight Australia in Sydney last year.
There, the band performed Queen's iconic 1985 Live Aid set in full. This section kicks off with Bohemian Rhapsody and Radio Ga Ga before Freddie's Ay Ohs are sung along to by the audience.
While what else could the ending be but We Will Rock You and We Are The Champions?
Meanwhile, this year marks the 50th anniversary of Queen's classic line-up, when John Deacon joined the band as bassist in 1971.
Having been forced to postpone their UK and European tour dates in 2020, Queen and Adam Lambert are set to perform those dates this summer.
The tour includes a 10-night residency at London's The O2 arena, plus two nights apiece in Birmingham and Manchester.
And what with it being the 50th anniversary of Queen, who knows what else they have in store?
Queen and Adam Lambert's Live Around The World concert film is available here.