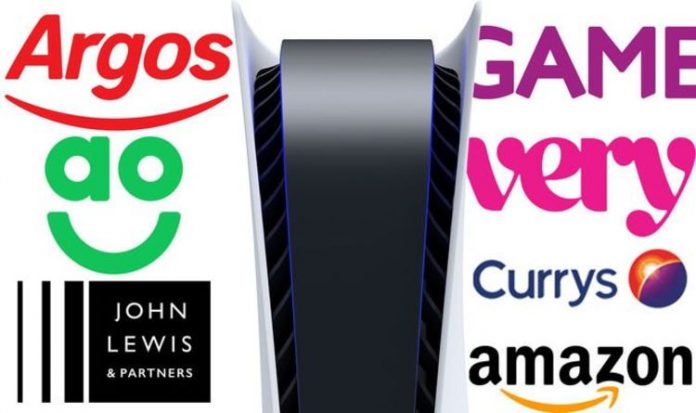 PS5 UK stock could be available to buy next week at Argos, GAME, Amazon, Currys, John Lewis, AO and Very. Reliable leaker and PS5 stock tracker account @PS5Instant – who was the first to reveal the January batch of PlayStation 5 restocks – has alerted UK stock hunters to the retailers they need to keep an eye on in the coming days. After the GAME PS5 restock on Thursday the @PS5Instant Twitter said that was just the start of the mid-February stock drops.
The @PS5Instant Twitter posted: "If you didn't manage to get one, don't worry, this was the start of Mid-February drops, Currys, Argos, Amazon Very and more still to drop, alongside more GAME drops soon. Make sure to sub as we will live stream drops".
And then recently over the weekend the @PS5Instant Twitter told PlayStation 5 stock hunters in the UK about the retailers they need to be keeping an eye on.
The @PS5Instant Twitter said: "No drops this weekend. Next week we're looking at stock by Currys, John Lewis, Very, AO, Amazon, Argos and GAME again."
If we are getting restocks at all of these UK retailers next week then there could be plenty of opportunities to pick up a PS5 in the coming days for gamers in Blighty.
The @PS5Instant Twitter isn't the only PS5 stock tracker account who has been tweeting about inbound stock drops.
The @PS5StockAlertUK Twitter account, who previously said February would be a "big" month for the PS5, has been tweeting about the next PS5 Argos restock.
And the account, who in the past shared alleged leaked information from Argos insiders, also said the next Argos PS5 restock would be next week.
The @PS5StockAlertUK Twitter said: "Argos will go live next week rather than the week after. For now, Tuesday, Wednesday & Thursday are possible days for release. I will announce an exact date when possible in a few days."
While the @PS5UPDATEUK Twitter has also been tweeting about the next Argos PS5 restock, and sharing a picture of what appears to be stock already in a warehouse.
The @PS5UPDATEUK Twitter posted: "I've been busy today so I didn't get to cover this earlier, but Argos has nearly finished restocking the PS5 at local stores which means they will be dropping soon (next week).
"Nothing expected to drop this weekend, so relax as we may see a lot of drops starting next week. #PS5".
The next expected batch of PS5 restocks comes after both GAME and ShopTo released PS5 stock last week.
This came in the aftermath of a flurry of PS5 restocks in January with GAME, Amazon, Argos, AO, ShopTo, Very, John Lewis, Smyths Toys and Currys all taking orders.
Hopefully this trend continues with PS5 stock beginning to become a bit more plentiful compared to the barren UK run of December.
Sony recently said they were targeting selling almost 15million PS5 consoles in the next financial year.
If the PS5 hits that number then it means it will be on par with PS4 sales at the same stage of that console's lifecycle.
PS5 restocks still, months after the console first launched, are selling out at lightning fast speeds.
To make sure you're ready for the next PS5 stock drop make sure you have already signed up to accounts with retailers who could be getting stock.
And either have your login details easily to hand or make sure you're already logged in across multiple sites on the device you predominantly use.
Also, if you're on Twitter be sure to follow a variety of PS5 stock tracker accounts and have alerts set up so you get push notifications as soon as stock drops.
Express.co.uk will also be doing our best to keep you up to date on the latest PS5 stock drops.