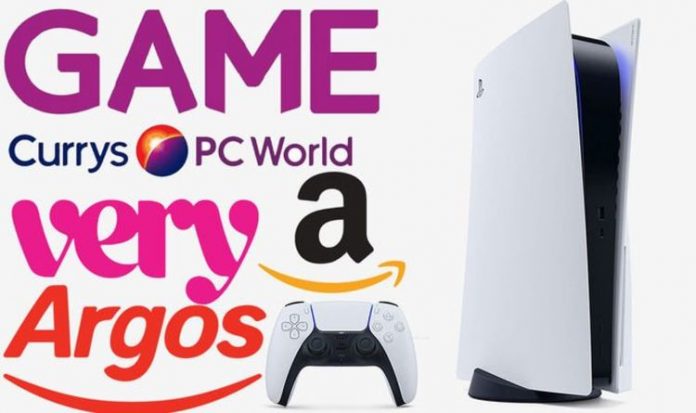 PS5 stock could become available to buy once again at a variety of top retailers soon. GAME, Currys, Argos, Very and Amazon UK are all tipped to get a PS5 restock during the week beginning March 1. And the GAME PS5 restock is rumoured to be the retailer's biggest stock drop so far, while Currys are also tipped to have a "huge" amount of PlayStation 5 stock to sell.
The @PS5Instant Twitter account claimed Currys did not release any PS5 stock in February as they were combining this with their March stock supply.
This bumper batch of PS5 stock is rumoured to be Currys' way of combating the threat of PlayStation 5 scalpers.
The @PS5Instant Twitter posted: "Currys merging their February and March stock for a huge stock release, making it harder for scalpers to buy them."
While elsewhere the Twitter account also claimed the upcoming GAME PS5 restock would be their biggest one yet.
The PS5 Instant Twitter posted: "Looks like GAME is planning on releasing another wave of pre-orders on the 2nd March (Next Tuesday). 60% of the stock will be Disc, 40% Digital, over 15K units and way bigger drop than this weeks."
The account in general said March would be the biggest restock so far for UK retailers, with Argos, Very, Amazon and Currys expected to bookend the month with PS5 stock drops during the first and last weeks of March.
The PS5 stock tracker posted: "March is going to huge for PS5 stock. We're expecting two major shipments to big retailers. Amazon, Argos, Currys and Very are dropping first week March and end of March! Don't give in to the scalpers, we're so close!"
In a separate tweet the account also said: "March restock will be the biggest yet for all retailers."
The @PS5StockAlertUK Twitter account has also been tweeting about the next GAME restock, after being the first account to correctly reveal GAME's Tuesday drop days before it went live.
The @PS5StockAlertUK Twitter posted: "News: Confirmed PS5 stock drop by GAME with pre-orders next Tuesday (02/03). Expected stock size is around 10K-15K again. The last guaranteed dispatch (release date) is 16/03."
In the run-up to its next rumoured restock GAME has updated their website with dozens of purchase options available, including standalone PS5 consoles as well as bundles.
This update to the GAME website could have been done in advance of the rumoured Tuesday restock.
Elsewhere Currys curiously on Thursday evening set up a queue for people looking to enter the website.
This typically happens when there's high demand – for instance Currys did this last Black Friday when there were tonnes of bargain hunters trying to access the site.
It's unclear why Currys set up this queue earlier this week, with no next-gen stock available to buy that day.
However, the @PS5StockAlertUK Twitter said this could have been done as a "test".
Maybe Currys were testing out a system they have in place to combat bots for their next PS5 restock?
If you're wondering what time the rumoured restocks could go live then here are details on the times January restocks became available.
Please note just because retailers dropped stock at this time beforehand, it doesn't mean they'll do the same for their next restock.
But it could give you an idea of the times you'll need to be keeping an eye out for PS5 restocks…
• Smyths Toys: 8.30am, 9pm
• John Lewis: 8.40am
• GAME: 10am, 11.30am, 12.30pm, 3.40pm
• AO: 10.30am
• Currys PC World: 7.10am, 1.10pm
• Amazon UK: 9.20am
• Very: 1.30pm, 2.30pm
• Argos: 1.20am
• ShopTo: 9.10am, 7.30pm, 8.40pm
The most recent major PS5 restock was the Tuesday February 23 restock at GAME. This went live at 9.45am with stock sold out over an hour later by 11am.