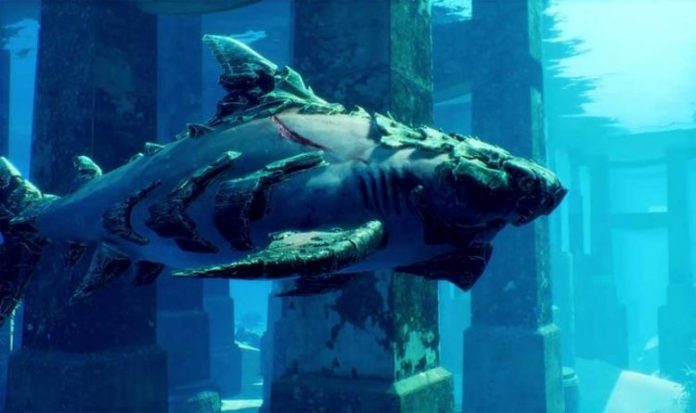 It's hard to judge what makes a good or bad choice when it comes to free PS Plus games.
With a new console to promote heading into January 2021, Sony had a task on its hands choosing the right PlayStation Plus free game.
With only a limited library to pull from, Maneater on PS5 might have been the best choice they could have made.
Playing the role of a man-eating shark out for revenge is always going to be a bit niche, but it also fits with what many gamers look for when it comes to PS Plus games.
While it's great to get a top exclusive or AAA game for free, a lot of the time gamers are looking for something they have never played before.
Including a title that looks fun but isn't something you would consider buying for yourself is a great role for PlayStation Plus to play.
And adding in the fact that Maneater also offers PS5 upgrades, it makes for a fun next-gen combo.
Many gamers have been pointing out their disappointment at Maneater being a PS5 exclusive on PS Plus, writing online:
"Very disappointed that Maneater is PS5 only, I really want to try it but don't have a PS5 yet. At least it's one more game to look forward to when I do get one! This is a pretty good month for me.
"You can still claim Maneater via web browser I believe. That way, you don't miss out on getting if you eventually get a ps5. I got Bugsnax on PS5 this way."
"Same, Maneater was the only one I was excited for but I don't have a PS5. The last Tomb Raider we got felt like a grind to get finished instead of actual fun (I'll still play the new one though).
"I already have two amazing RPGs (Cyberpunk2077 and Fallout 76) so I'll probably not be downloading Greed Fall.
"All in all, it's a good month since I have neither game and if I didn't have my hands full with other RPGs, I would've played Greedfall. Just very disappointed about Maneater."
As mentioned above, Maneater from January's PS Plus selection is the PS5 version, meaning you can't download and play it if you own a PS4.
But while that has come as a great disappointment to some, it should be noted that both Shadow of the Tomb Raider, and Greedfall are both PS4 versions.
For those who have never played it, here's a short description of what Maneater can be like to play, here's an extract from the Maneater Review:
"Bounty Hunters circle in their boats above the surface as I bide my time, waiting for the right moment to strike.
"I've already eaten several waves of pursuers, who have been called to the Cove because of my beastly, man-eating ways.
"I've only a few moments of rest-bite before I must plunge headlong back into the fray, smashing onto the boat decks to consume my foes.
"This is the part of Maneater I like best, the chaotic combat that leads me to take on the ever-growing human threat.
"But if Maneater were simply a Shark Simulator, allowing you to play the life of terrifying fish, things would get boring pretty quickly.
"Lucky for us, Maneater is a Shark RPG, featuring a tale of revenge and a levelling system that turns you from a normal pup, into a ravenous Mega Shark.
"The story begins with you playing the role of a fearsome female Bull Shark, who is eventually taken down by a ruthless Bounty Hunter.
"You quickly take the role of the vengeful daughter, who is looking to grow strong enough to take on your ultimate rival."
The levelling system allows you to grow as you consume and kill your aquatic rivals, while also giving you the chance to complete missions and side-quests.