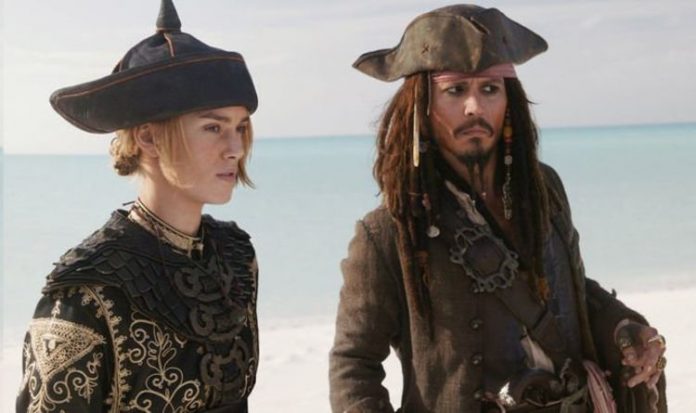 The first Pirates of the Caribbean movie, Curse of the Black Pearl, introduced the three main characters in barrage of flirty scenes. Although Will Turner and Elizabeth Swann were clearly destined to be together, Swann's chemistry with Jack Sparrow could not be ignored. Despite how good the pair looked on camera together, Johnny Depp once claimed he felt extremely "awkward" when kissing Kiera Knightley – especially because of the 20-year age gap.
Speaking in an interview about the event in the first film, Depp confessed: "Kissing someone you are not romantically involved with is always awkward.
"But the fact that Keira is 20-something years younger than me made it infinitely more awkward."
During the filming of Curse of the Black Pearl Knightley was just a 17-years-old, while Depp was 39-years-old.
Depp later added: "Still, she was a good sport about it and we did what we had to do."
READ MORE: Pirates of the Caribbean 6: Captain Hook may arrive after Depp exit
Knightley then referenced kissing both Depp and Orlando Bloom in the same movie, adding: "What more can a girl ask for?
"I've got Johnny Depp and Orlando Bloom and I get to kiss both of them. It's wonderful!"
Years later, Knightley was quizzed on who she preferred kissing most in the movies.
To which she responded: "Johnny Depp certainly wasn't bad."
Johnny doubled down on his thoughts in a separate interview, saying: "Any kind of scene like that whenever you're doing that sort of thing, it's always unbelievably awkward especially having met Keira when she was 17 years old."
The 57-year-old did clarify that they had to just get on with it when the camera was rolling, however.
He added: "But regardless of that it's always awkward so you kind of just making light of it… that's the gig."
Despite kissing Jack Sparrow in the third film, At World's End, Swann did go on to marry Turner at the end of the movie.
Neither Bloom nor Knightley have yet officially signed on to the upcoming Pirates of the Caribbean 6 – and things don't look good for Depp either.
Depp has allegedly been dropped by Disney for the next movie, following his public court case against his ex-wife, Amber Heard, over "wife-beater" allegations.
It has since been confirmed Harley Quinn star Margot Robbie is becoming the new protagonist of the next set of Pirates movies.
The Pirates of the Caribbean movies are available on Disney Plus now.
READ THE SHOWBIZ CHEATSHEET REPORT