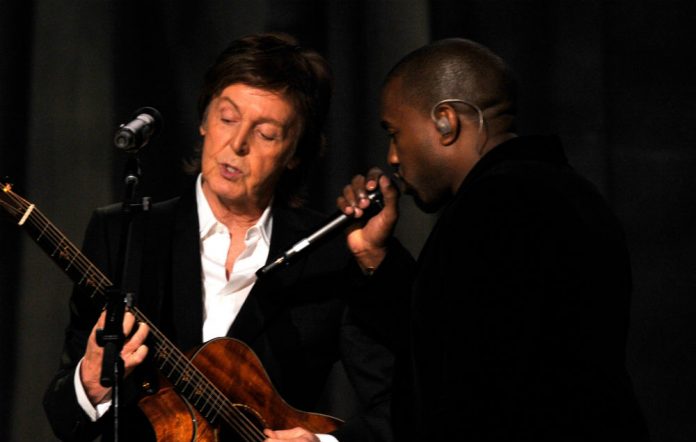 [ad_1]

The two artists worked together with Rihanna on the one-off single 'FourFiveSeconds', which came out in January 2015
Sir Paul McCartney has recalled his experience of writing music with Kanye West, with the Beatle shedding further light on how they wrote the 2015 single 'FourFiveSeconds'.
The song, which was recorded with Rihanna, was released as a one-off single in January 2015. McCartney has previously described the experience of making music with West as "an intriguing process".
McCartney, who announced the release of his first solo album in over five years yesterday (June 20), has spoken once again about how he and West wrote 'FourFiveSeconds', revealing that he let the rapper "lead the dance".
"We ended up just talking a lot," McCartney told DIY. "I played a few little things and one of them ended up as 'FourFiveSeconds' with Rihanna. It's more a question of me feeling lucky that these people are interested [in working with me] and think that I can bring something to it. For me, I feel great. I like diversity."
McCartney continued by saying that he "learnt a lot" from working with West, but he also clarified that their songwriting methods were quite different.
"We had a method in our early days of The Beatles and with Wings that I used all the way through for writing songs," he said. "I would sit down with a guitar or at a piano and make it up and complete it. Then that's it, you've done your song, and then you're ready to roll and go in the studio.
"With [West], it was much more made up as we went along – so much so that I didn't even realise that I was making songs.
"We had two or three afternoons where we just hung out together in a Beverly Hills hotel in the bungalows out the back, and he had his engineer and was set up with a couple of microphones in case anything happened," he continued. "I was tootling around on guitar, and Kanye spent a lot of time just looking at pictures of Kim [Kardashian] on his computer. I'm thinking, 'are we ever gonna get around to writing?!'
"But it turns out he was writing. That's his muse. He was listening to this riff I was doing and obviously he knew in his mind that he could use that, so he took it, sped it up and then somehow he got Rihanna to sing on it. She's a big favourite of mine anyway, so that just came without me lifting a finger."
McCartney also revealed in an interview this week that the late George Harrison's expletive-filled rants often managed to get The Beatles out of doing things that they didn't want to do.
[ad_2]