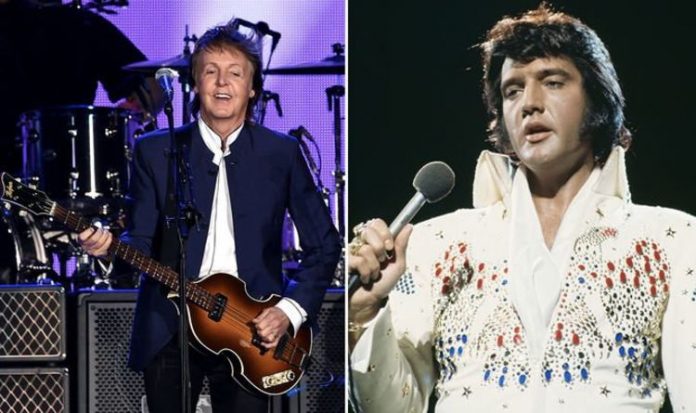 The Beatles famously quit touring in 1966 and decided to focus on recording and releasing studio albums instead. Of course, they did perform live once more in 1969 on the roof of Apple Corps HQ, but other than that they'd really had enough of concerts. And now Sir Paul McCartney has shared how Elvis Presley inspired The Beatles to stop touring.
Of course, Elvis himself spent much of the 1960s making Hollywood movies before his 1968 Comeback special.
This was then followed by a series of Las Vegas residences and some tours across the US.
Music fans may then be wondering exactly what it was about Elvis that inspired The Beatles to stop touring.
Well, Sir Paul began by reminiscing about the Fab Four's final concert at Candlestick Park, California in 1966.
READ MORE: Elvis Presley: How Paul McCartney ended up owning part of King history
Speaking on The Adam Buxton podcast, Sir Paul remembered: "It was wet, it was raining, we were stuck on some little tin pot stage in the middle of this great big baseball arena.
"We couldn't hear ourselves, we weren't having any fun.
"And then to add to the indignity of it all, we were driven away in the back of a steel-lined meat wagon."
There wasn't even anything to hang on to in the van and The Beatles just knew they'd had enough.
The Beatles said to themselves: "That is brilliant! Only Elvis could have thought of that.
"What we should do is we should make a killer record and that can do the touring for us.
"So that's what Sgt Pepper was all about."
The 1967 album is often polled as one of the greatest albums of all time.
Sir Paul also mentioned how The Beatles really wanted to be rich and famous but didn't expect to be as big as they were.
The 78-year-old even recounted how at first they'd really take their time with autographs because it was such a novelty, but after a year it just became quite wearing for the band and soon became a quick squiggle.
He admitted that some elements of fame were not so good, but added that "it's what we'd asked for, it's what we'd planned for and we'd made this happen. Maybe it happened a bit more than we expected, but it was still of our own making."
Sir Paul McCartney's new solo album McCartney III is released on December 18, 2020.