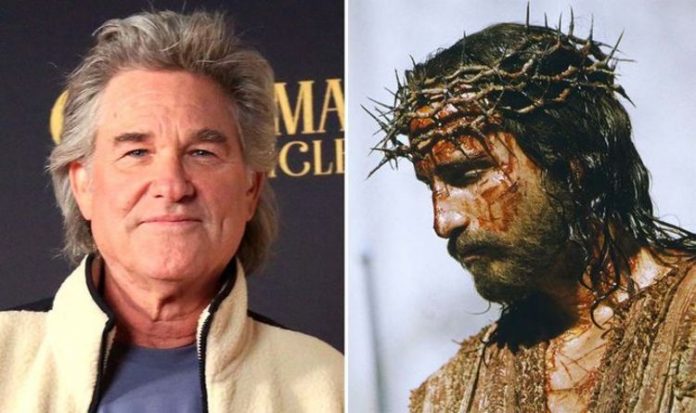 The Passion of the Christ follows the last 12 hours in the life of Jesus of Nazareth, from his prayers in the Garden of Gethsemane to his death by crucifixion. The Biblical epic is one of the highest-grossing R-rated (15 in the UK) movies of all time with a global box office taking of $612 million. Notably, the Christian blockbuster's dialogue is entirely in Hebrew, Latin and reconstructed Aramaic, while originally Mel Gibson wanted to release the film without subtitles.
Now Kurt Russell has praised The Passion of the Christ for being shot in the original Ancient languages.
The 69-year-old has reprised his Santa Claus for Netflix's The Christmas Chronicles 2, in which his Kris Kringle speaks to his elves in a specially created language called Yulish.
Asked in a new interview if it was a challenge, Russell said: "There's a guy who writes it out phonetically and then you read it. We have no idea what we're saying!"
While his partner and Mrs Claus co-star Goldie Hawn added: "He says it's a language, but in my mind, it's just sounds."
READ MORE: Passion of the Christ 2: Jesus star teases 'MASTERPIECE' sequel
It was here that Russell then made a comparison to The Passion of the Christ.
Speaking with the New York Times, the actor said: "It's not to be taken lightly.
"I'll never forget when I saw The Passion of the Christ and went, 'Mel discovered something that nobody figured out for all this time we've been making movies.'
"If you do anything that's historical, especially the Bible, and you do it in an original language, it gives it a sense of authenticity."
Speaking with Alex Marlow on SiriusXM's Breitbart News Daily, the 52-year-old actor revealed that he's been reading a new version of the script.
Caviezel said: "Mel Gibson just sent me the third picture, the third draft. It's coming.
"It's called The Passion of the Christ: Resurrection. It's going to be the biggest film in world history."
Meanwhile, Passion of the Christ 2's screenwriter Randall Wallace, who also penned Gibson's Braveheart and We Were Soldiers, has teased the film too.
Wallace told Movie Web: "It's something [Gibson and I] talk about a lot. My major in college was religion, and I did a year seminary afterward.
"My major focus of study was the resurrection. That is the Mount Everest of movies and we are in discussions about it a lot.
"It's a highly-charged one, so we keep our cards close to our chest."
The Passion of the Christ: Resurrection's release date is TBC.