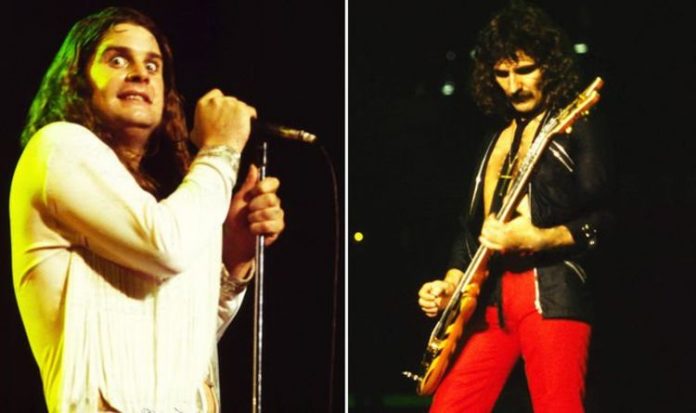 Back in 1979, after a decade together as a very successful metal band, Ozzy Osbourne was fired from Black Sabbath. The entire band were abusing drugs and alcohol, but Ozzy was on another level. In the end guitarist Tony Iommi knew the only option was to fire the singer or break up the band.
Now in an exclusive interview with Express.co.uk, Black Sabbath bassist Geezer Butler has opened up how he felt about Ozzy's firing over 40 years ago.
The 71-year-old admitted: "I was very sad that the inevitable had to happen.
"I did shed tears, but eventually it was the right move.
"Both Ozzy and Sabbath went onwards and upwards from that point."
READ MORE: Black Sabbath: Tony Iommi reveals REAL reason Ozzy Osbourne was FIRED
Tony admitted that Ozzy just couldn't come up with any new ideas and just wasn't gelling with the band anymore.
The Black Sabbath guitarist continued: "I had to go to the record company – it was always me – and they'd say, 'How's the album coming along? When can we hear some tracks?'
"And I'd say. 'Err…soon'. We hadn't got anything. And I thought, 'I can only bluff it so much.' It was getting pretty bad when I was called into Warner Bros.
"We had to have a serious talk as a band saying, 'What are we going to do? Nothing's happening.' It came about that either we break up or we replace Ozzy."
Tony said how the decision to fire Ozzy was a "very sad" one.
The 72-year-old said: "We said we were going to do it all together and of course Bill [Ward] stepped in on his own, which made it look worse. It was difficult for us. Really difficult. But y'know out of that was goodness for Ozzy and for us.
"It made him get off his arse, pull himself together and do something with his own album, which he did – it was really good. And it gave us the fighting end to do something, because we had to prove something. When we had Dio, we wrote the Heaven and Hell album, which pulled us back on again."
Paranoid 50th Anniversary: Super Deluxe Edition, which is also available on CD, is out now and can be ordered here.
While Geezer Butler's solo reissue albums in Plastic Planet, Black Science and Ohmwork are released on October 30th, 2020 and can be pre-ordered here.