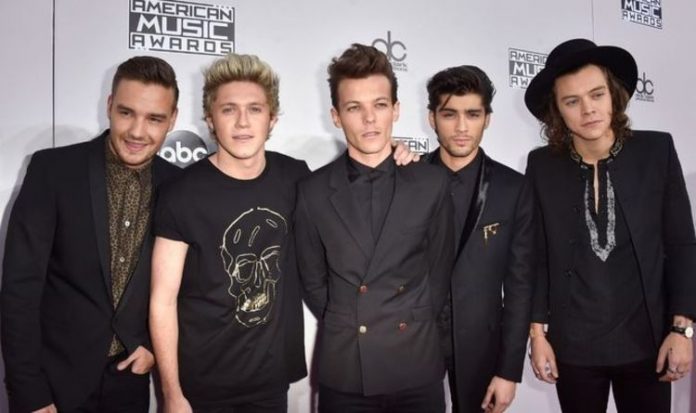 One Direction lasted for a few years but made a lasting impression on fans. Since their time as a band, however, each member has gone his own way, making their own money from their solo work. As they are now all solo artists, who earns the royalties from 1D?
As may be expected, the One Direction boys earn royalties from their work together.
The boys set up a company called 1D Media so they could split the profits made from their work evenly.
This was set up when Zayn Malik left the band, so he could continue to earn royalties from the group.
However, when the band broke up in 2016, the boys sold their director titles but still earn from their work via the company, though selling 10 shares earned them each a whopping £14million at this time.
READ MORE: Star Wars behind the scenes: Insider reveals challenges in sci-fi
As a result, while the particulars of royalties earned by other people and companies is unknown, the boys still make a profit from the band.
In 2019, according to documents filed by 1D Media, the boys earned millions in 2018, two years after they broke up.
The documents filed revealed: "If the company is unsuccessful in the proposed litigation, the maximum obligation is estimated to be approximately £24.7m including interest.
"However the company has an indemnity against third parties in relation to such an event and the amount which should be reimbursed to the company is estimated to be approximately £18.4m."
The comment around litigation is a large tax bill, and they were ordered to pay £24.7million by HMRC.
A source told The Sun in 2018: "Being one of the world's most successful music acts unfortunately can come at a hefty price.
"Their firm decided to use an alphabet scheme for the hundreds of millions of pounds they earned. It means shares are grouped into categories — such as A to J — and allows profits to be paid in the form of dividends at different rates.
"However, while legal, HMRC inspectors have since decided to crack down and target them as potential measures of avoiding tax.
DON'T MISS
"Because dividends are not subject to National Insurance contributions like wages, they have less tax deducted from them than is taken off salaries.
"It means One Direction could now be set to pay back a huge sum to the taxman."
In 2019, The Mirror reported the boys had been able to "mostly avoid" this after an appeal.
As well as this, however, there is also the matter of their former manager, Simon Cowell.
According to Forbes in 2014, Cowell earns a huge amount of money from The X Factor shows, which has versions all around the world.
His label Syco has the rights to winners from all of his shows and he had a huge hit on his hands with One Direction.
However, this article was from 2014, at which point 1D was still touring all over the world and making money for Simon.
Simon bought back his share of Syco Entertainment from Sony Music in 2020, which he had previously sold, but Sony still has the rights over artists and back catalogue from Syco Music artists.
Simon has no control over the company, but likely still earns some money from the artists he signed.
Despite this, all five have now left Syco Music and are either signed to other labels or working on other projects, and their company 1D Media has meant the royalties from their music goes to the boys.