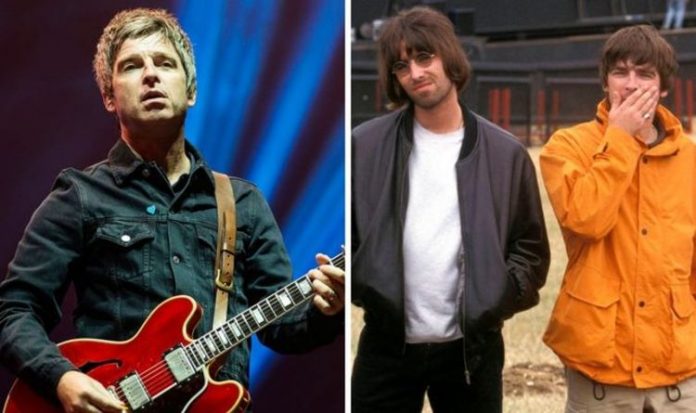 Oasis' backbone was the two Gallagher brothers Noel and Liam, whose work was the most notable in the band. Noel was the main songwriter and, while Liam did contribute in this way, his voice was iconically linked to some classic tunes. It was Noel, however, who sang Don't Look Back in Anger – but what is the song about?
What do the lyrics mean in Don't Look Back in Anger?
Originally, the song had a particular meaning, which Noel Gallagher described as "defiance."
Speaking to NPR in America in 2018, Noel said: "It started off as a song of defiance, about this woman.
"She's metaphorically seeing the diary of her life pass by, and she's thinking, 'You know what? I have no regrets.' She's raising a glass to it."
READ MORE:  Steven Tyler daughter: Is Liv Tyler the Aerosmith star's daughter?
The "she" in the song could be anyone, but Noel particularly mentions Sally in the chorus, so who is Sally?
There are no definite answers on this, however, Noel added: "I wrote it after I came out of a strip club."
Now, the song has a new meaning, as it became an anthem after 2017, when terrorists bombed Manchester Arena during an Ariana Grande concert.
The act of terrorism led the people of Manchester to come together around the song, with even Noel's estranged brother Liam performing it in his Glastonbury set in 2017.
Noel added: "So, it starts off as a song about no regrets, and then it's ended up as this anthem of defiance about not being dragged down to the level of terrorists."
He also spoke about the song's new meaning on Radio X in 2018, adding: "That song is more important than I'll ever be."
After the bombing, mourners sang the song at a vigil in Manchester's St Ann's Square, and Noel performed it at the reopening of the arena, in a special performance.
Now, Noel believes it would be impossible to remove the song from his setlist.
He said: "When I see teenagers in the crowd — who were barely born when Oasis split up, far less when we were together — that makes me think, 'Wow, we did something that was special and timeless, that generations have come along afterwards and they still get it.'
DON'T MISS
"It is difficult putting together a setlist, because you kind of think, 'Am I done with that song? How many more times am I gonna play it?'
"You're kind of obliged to at least give it a go. Don't Look Back in Anger – I don't think I'd be allowed out of the venue if I didn't play that. It's kind of like my Hey Jude."
The song seems to have a very important place if Noel can liken it to Hey Jude.
Similarly, if his brother is performing it despite their feuding, it must be a song which really brings people together.
As for the lyrics themselves, they are strong and powerful as they command the listener to "step outside the eye of your mind", before vowing to "start a revolution from my bed".
Interestingly, given Noel links it to a famous song by The Beatles, he also nods to John Lennon and Yoko Ono in that lyric, as it alludes to the couple's honeymoon, which was a two-day "bed-in" protest against war.
He also may be nodding to a song by The Stone Roses, Sally Cinnamon, in his use of that name, given his affinity to the band and their music.
Noel is a fan of the song, having said in a throwback interview: "When I heard Sally Cinnamon for the first time, I knew what my destiny was.
"We thought back in the day that you had to go to college or to be an art student to be in a band… Or be Paul Weller.
"And when I first went to see The Roses, they dressed the same… they looked exactly the same as we did in round about '88, '89 when it all went into colour…"