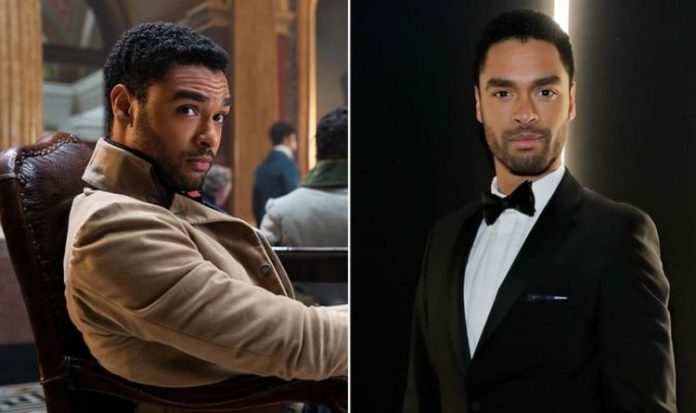 Over Christmas, Regé-Jean Page shot to fame with his eye-catching Duke of Hastings role in Netflix smash Bridgerton. Since starring in the period drama, the 31-year-old has become a favourite to be the next James Bond. And having now signed up for a leading role in a new Hollywood blockbuster, the British-Zimbabwean hunk could well be another step closer to those 007 auditions to replace Daniel Craig.
According to The Hollywood Reporter, Page will join Chris Pine, Michelle Rodriguez and Justice Smith in Paramount's Dungeons and Dragons movie.
The fantasy epic, based on the popular fantasy role-playing game, will be directed by Game Night's Jonathan Goldstein and John Francis Daley.
Similar to The Lord of the Rings' Middle Earth or Game of Thrones' Westeros, Dungeons and Dragons features a world of swords and sorcery.
Of course, it's not yet known if the Dungeons and Dragons movie will just be set in the fantasy world or incorporate the Dungeon Master hosting and dice gameplay too. Hopefully, the latter considering it's the Game Night directors working on the movie.
READ MORE: Next James Bond: Regé-Jean Page backed to replace Daniel Craig as 007
Perhaps the film will have a similar feel to the very successful Jumanji video game reboot movies led by The Rock.
Whatever the case, here's hoping that the new Dungeons and Dragons movie will redeem the 2000 flop of the same name starring Jeremy Irons.
Despite its box office failure and critical panning, the original movie spawned a TV movie sequel and direct-to-DVD threequel.
Page's last blockbuster movie was Mortal Engines, in which he played Captain Khora.
In fact, Betway's latest odds have Page on 10-3 to replace Craig after No Time To Die.
He's currently the third favourite for the next Bond, behind James Norton on 5-2 and Tom Hardy on 5-4.
Most recently, his Bridgerton co-star Adjoa Andoh has backed Page to be the first BAME 007.
Appearing on Good Morning Britain last week, the Lady Danbury star said: "The thing with Regé is that he's beautiful – don't tell him I said that! – he's beautiful, he's very smart."
Andoh added: "He's a fantastically funny, sharp actor, so he could take on any role you give him really, annoyingly.
"So yes, he'd be a marvellous Bond if they ever decided to go that way – no doubt at all."
Asked on The Tonight Show earlier this month about those Bond rumours, Page replied: "If you're a Brit and you do something of any kind of renown that people regard well, people are going to start saying the 'B' word. It's like a merit badge! I'm very glad to have the badge.
"I'm very glad to be in the company of such people who have the badge, but it's just a badge."
READ THE FULL HOLLYWOOD REPORTER ARTICLE HERE