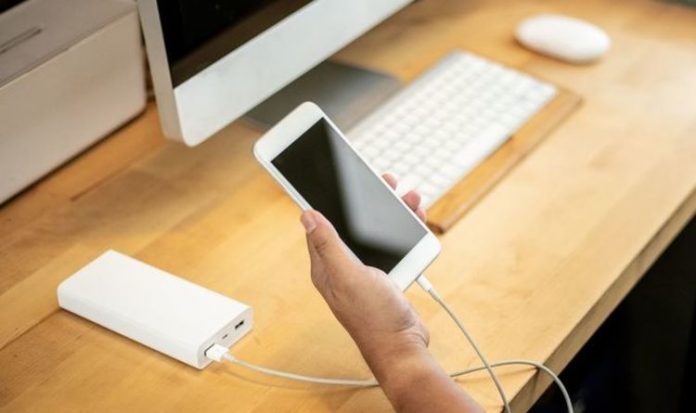 GMB: Kate Garraway turns her phone on silent live on show
This article contains affiliate links, we may receive a commission on any sales we generate from it. Learn more
Carrying a charger which needs to be plugged in is all well and good, but when you're on the run with no access to a socket you'll still find yourself in a tricky situation, with no way to charge your phone.
A power bank is a portable charger which you charge before you head out and then can plug into your phone wherever you may be, so you can re-charge the battery without trying to find an available power socket. For eight portable chargers which will give you peace of mind while you're out and about, keep scrolling.
Best power banks for charging on the go (Image: GETTY)
GETIHU Power Bank, JONKUU Portable Power Bank Charger (Image: Amazon)
Certified to be safe to use on an aeroplane, you can charge your phone while you travel without worrying about interfering with the signals.
The handy LED screen keeps you in the loop with how much battery is left in the charger, so you can know for sure when it needs to be recharged.
The ability of this device to charge two devices at once is a huge time saver and means you can charge up your phone and your Bluetooth headphones at the same time at a fast speed.
Some power banks can only effectively charge phones, but this device can easily charge smaller devices such as headphones, smartwatches, speakers, and more electronics.
RRP: £15.99
Shop on Amazon here…
Able to fully charge a Samsung Galaxy S8 2.5 times, and an iPhone 7 three times, this is the perfect accessory for a long day out or a night away from home.
The light indicator on the device lets you know how much power it has left so you're never given any nasty surprises.
Roughly palm-sized and very lightweight, this charger can fit into most wallets and you won't even remember you've got it with you until you need it.
RRP: £13.99
Shop on Amazon here…
DON'T MISS:
Anker Power Bank, Poweradd Slim2 5000mAh Portable Charger (Image: Amazon)
Able to charge most phones and tablets multiple times, this portable charger gives you the freedom to not worry about when you'll be able to be near a power point next.
The twin USB port allows you to simultaneously charge your devices to save you waiting around to switch between what needs charging.
RRP: £34.99, on sale now for £27.99 – you save £7
Shop on Amazon here…
Only 3.9-inches long and 1.2-inches deep, this charger is only slightly bigger than lipstick so it's just as easy to carry around with you.
Although it's a small device, it can still charge most devices multiple times and has a notably quick charge time.
RRP: £7.99
Shop on Amazon here…
HETP Power Bank, iPosible Power Bank (Image: Amazon)
Able to charge your phone between five and six times, this portable power bank is perfect for trips, hikes, and anything else where you know you'll be without reliable access to power for a stretch.
The device has two USB ports so that you can charge two devices at once, whether that be your partner's iPad, a friend's phone, or just a set of headphones.
RRP: £21.99
Shop on Amazon here…
You can charge multiple devices at once, and expect to get eight full charges out of this handy little power bank.
This power bank can change the current depending on what device it's charging, so the safety of your phone is always the top priority.
Even if you have a device that is not very well know, this power bank is universally adaptable so no matter what you have, you can rely on this bank to charge it up.
RRP: £21.99
Shop on Amazon here…
EAFU Power bank, iWALK Power Bank Charger (Image: Amazon)
Small, thin, and lightweight, you'll be able to bring this portable charger with you in nearly any bag or wallet.
The device offers efficient, high-speed charging, and even comes with a built-in flashlight just in case of emergency (or just to find the stuff lost at the bottom of your handbag).
RRP: £13.88, on sale now for £11.03 – you save £2.85
Shop on Amazon here…
One of the smallest devices on this list, this fast-charging power bank plugs straight into your iPhone so you don't have to worry about carrying around wires.
At its small size, it can still charge an iPhone 1.2 times, perfect for those long days out where you just need a bit of a power boost
RRP: £16.99
Shop on Amazon here…