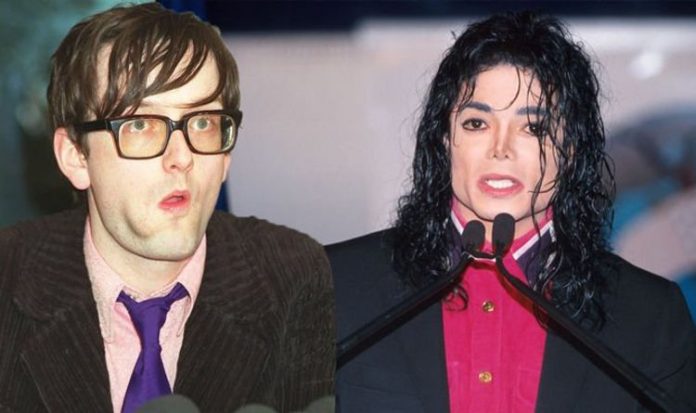 On this day, February 19, 1996 Michael Jackson performed a short collection of songs at the Brit Awards with an enormous production full of lights, wind machines and dancers. Children and adults alike swarmed the stage while Jackson sung the chorus of Earth Song to a live audience in a loose-fitting white shirt lit by a spotlight. At that very moment, however, Pulp frontman Cocker jumped on stage and wiggled his bottom at the crowd.
The event was a scandal, with press and fans eager to find out what was going on.
But seconds into Cocker's apparent protest security ran on stage to take him away.
The singer was swift enough to run away while lifting his shirt in a final display of objection.
Shortly after the event Cocker made a statement saying: "My actions were a form of protest at the way Michael Jackson sees himself as some kind of Christ-like figure with the power of healing."
READ MORE: Michael Jackson made prank phone calls to Marvel's Incredible Hulk
Cocker was referring to Jackson, at the time of the protest, holding his arms out while children and other extras dressed in rags simulated "worshipping" him.
The Pulp singer continued: "The music industry allows him to indulge his fantasies because of his wealth and power.
"People go along with it even though they know it's a bit sick. I just couldn't go along with it any more."
He added: "It was a spur-of-the-moment decision brought on by boredom and frustration."
Jackson himself later put out a statement about the incident, saying: "I'm sickened, saddened, shocked, upset, cheated and angry, but immensely proud that the cast remained professional and the show went on."
Cocker was later arrested for "assaulting some children" but the charges were dropped when David Bowie released footage he took of the event.
The footage – which can be seen above – shows Cocker running onto the stage, waving his bottom and leaving.
Jackson did not speak out about the event again after his official statement.
The Thriller singer may have been a little hurt by the protest because Earth Song meant a lot to him.
The track was the third single released from his 1995 album HIStory.
He later explained: "I was feeling so much pain and so much suffering of the plight of the planet Earth. This [was] my chance to pretty much let people hear the voice of the planet.
"And this is Earth Song. And that's what inspired it. And it just suddenly dropped into my lap when I was on tour in Austria."
READ THE ORIGINAL REPORT