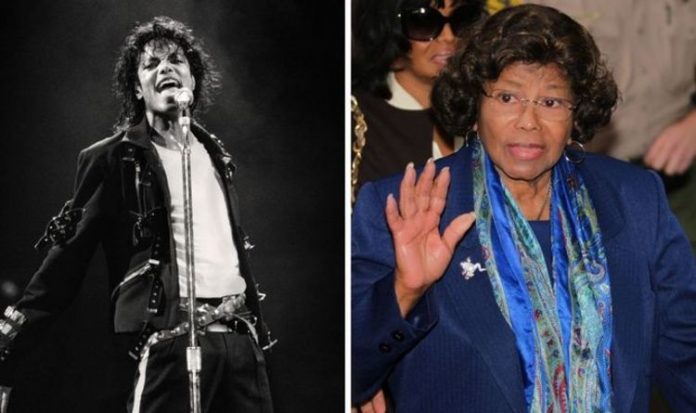 Michael Jackson had a close-knit family, given he performed with half of his siblings throughout his career. He has spoken out about his father in the past in a less favourable tone, but little is known about his mother. She was the guardian of his children after his death – but who is Katherine Jackson?
Michael Jackson's mother was Katherine Jackson, and his father was Joseph Jackson.
She was born Kattie B Screws on May 4, 1930, in Alabama to her parents Prince and Martha, though as a young child their surname was changed to Scruse, and her name was changed to Katherine Esther.
She was the eldest of two girls, but after contracting polio as a child she was left with a permanent limp.
While she reportedly aspired to be an actress or singer, she met her husband Joe in 1947 and they began dating after his first marriage ended.
READ MORE:  Star Wars behind the scenes: The secrets of how Yoda's home was built
They married after dating for a year on November 5, 1949, and soon bought their home in Gary, Indiana, where Michael was born.
From 1950 until 1966, Katherine gave birth to 10 children, though Marlon's twin Brandon died soon after his birth.
Here is a list of the Jackson children:
Maureen Reillette 'Rebbie' Jackson – born May 29, 1950
Sigmund Esco 'Jackie' Jackson – born May 4, 1951
Toriano Adaryll 'Tito' Jackson – born October 15, 1953
Jermaine La Jaune Jackson – born December 11, 1954
LaToya Yvonne Jackson – born May 29, 1956
Marlon David Jackson – born March 12, 1957
Brandon Jackson – born and died March 12, 1957
DON'T MISS
Steven Randall 'Randy' Jackson – born October 29, 1961
Janet Damita Jo Jackson – born May 16, 1966
Joe managed his children's early careers but he became infamous.
Some of his children, namely Michael, claimed he had been abusive and domineering in his dealings with The Jackson 5, the boy band created from his sons.
Michael opened up about this abuse in a 1993 interview with Oprah Winfrey, saying: "If you didn't do it the right way, he would tear you up, really get you."
He claimed his father whipped him with a belt, but despite these allegations, Michael forgave his father, even establishing a 'Joseph Jackson Day' memorial at his home at the Neverland Ranch.
Katherine has been reported of seeking a divorce from Joe multiple times due to extramarital affairs, with Joe having a tenth child, Joh'Vonnie Jackson, with Cheryl Terrell.
However, the couple remained legally married until Joe's death, with Katherine denying any estrangement between them.
Despite this, in 2011, Katherine was reported as living with T.J. Jackson, her grandson and son of Tito, in Calabasas, which would imply she spent the last few years of his life away from her husband.
Joe died in 2018, while Katherine is still alive and was the legal guardian of Michael's children: Prince, Paris and Blanket.
When Blanket was 15-years-old, however, Katherine resigned as Blanket's guardian, with the responsibility passed to TJ.
Court documents at the time read: "Katherine is no longer needed to fulfil the duties that were necessary when joint-guardians were appointed on September 14, 2012.
"Given her own age and the fact that [Blanket] is now 15 years old, Katherine feels that T.J. is able to assume all necessary responsibilities the guardianship."